David Tennant the Patron of Headway Essex has exclusively designed a fantastic doodle to raise funds for the brain injury charity.

If you want to keep David close to your heart the David Doodle T-shirt is just what you need! These t-shirts are the ultimate Ethical shirt made from organic cotton. They come in both male and female fit with a full range of sizes. Headway Essex is raising funds by selling the t-shirts for £22 each. Delivery is free.

For the more adventurous among you, you could always rest your head and 'Dream with David' on your very own David Doodle Pillowcase! This contemporary style black doodle on a white cotton mix pillowcase looks fabulous. Headway Essex is raising funds by selling each pillowcase for £10. Delivery is free.
When you have done that send the form and your cheque to: Headway Essex,
58b Head Street,
Colchester,
Essex,
CO1 1PB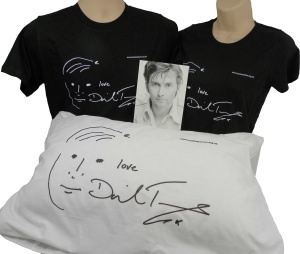 A selection of the merchandise available.

Great news! David has signed more cards for the Headway Essex appeal.
UK Fans : Click here to download the order form. You must print the order form, complete it and send it with a cheque made payable to Headway Essex. Each card requires a minimum donation of £20:00 plus £1:00 Postage. When you have done that send the form and your cheque to: Headway Essex, 58b Head Street, Colchester, Essex, CO1 1PB
Overseas Fans: If you are from overseas and would like to purchase one of the cards that David has signed to raise money for Headway then please email town.office@headwayessex.org.uk for payment instructions.
David models one of the T shirts he designed to raise funds for Headway Essex.
Kurtis models a Headway Essex T shirt.
Kids aged 7 or over could order the small male size which is 37 – 39 inches.
Enter supporting content here
BUY DAVID TENNANT MERCHANDISE:

WANT TO GET IN TOUCH? CONNECT TO OUR NETWORK:
VISIT OUR AFFILATES:
Best viewed in 1024 or above and using Internet Explorer 9.
David-Tennant.com is an independently owned fansite for the actor David Tennant celebrating 11 years online in 2014.