14/12/2005, 15:00pm GMT
We will be closing for Christmas so make sure you join our fan forums over at
www.david-tennant.net
to keep up to date on news etc!
13/12/2005, 15:05pm GMT
The Official Doctor Who site has a new trailer featuring a glimpse of David as the Doctor online
here
.
13/12/2005, 15:00pm GMT
BBC Three have confirmed that they will be repeating The Christmas Invasion at 19:00pm on New Year's Day. This will include a repeat of the interact, called Attack of the Graske, which runs from 20:00pm to midnight.
13/12/2005, 14:53pm GMT
David and Billie feature in the new issue of Starburst magazine where they go behind the scenes of The Christmas Invasion, Total TV and Heat magazine also have interviews with David.
13/12/2005, 14:51pm GMT
Head over to our news forums at
www.david-tennant.net
to read the press reviews of yesterday's Christmas Invasion press screening, but be warned there are plenty of spoilers!
Visit the Offical Spoiler Gallery
here
!
13/12/2005, 14:47pm GMT
The BBC have issued the following press release regarding the 'red button' Doctor Who special:
After the credits roll on Doctor Who's first Christmas special, The Christmas Invasion, viewers will be given an opportunity for a further adventure with the Doctor.
By pressing the red button they have the chance to become the Doctor's companion in a truly interactive mission of their own.
Attack of the Graske is a pioneering mix of live action, state-of-the-art special effects (from multi-award-winning The Mill) and individual tasks.
Starring David Tennant as the tenth Time Lord, with Jimmy Vee as The Graske, Attack of the Graske features an entirely new threat – an alien species intent on taking over the Earth.
In a series of challenges the viewer will be tested on all the skills necessary to keep the Universe safe – you'll even have a chance to fly the TARDIS!
One of the producers, Sophie Fante, says: "Attack of the Graske gives the viewer the unique opportunity to immerse themselves fully in the world of Doctor Who.
"We aimed to make the challenge with the same scope and feel of the main series and, in Attack of The Graske, the viewer finds themselves not only flying the TARDIS with the Doctor but fighting the Graske on the planet Griffoth and hunting him out in Victorian London.
"Filming was great fun because of the variety of locations within a relatively short shoot.
"The high point was creating an authentic Dickensian Christmas scene, complete with snow, in a small corner of Cardiff."
Through a series of tests using the arrow keys on their digital remote control, viewers will be tested on observation, dexterity, memory and bravery as the epic story unfolds across time and space.
Participants will travel into the past and to a strange new world, battling a determined and evil foe.
Throughout the adventure, the Doctor will be on hand to give advice, encouragement, and even step in when things go wrong.
But don't expect any favours – he only takes the best.
Written by Gareth Roberts and directed by Ashley Way. Executive Producers are Russell T Davies and Julie Gardner (Head of Drama, BBC Wales). Produced by Sophie Fante and interactive producers Jo Pearce and Andrew Whitehouse.
Made in Cardiff, by New Media and BBC Wales, Attack of the Graske is in the vanguard of BBC's TV Plus initiative and is part of its commitment to quality, creativity and innovation.
And remember, Doctor Who - The Christmas Invasion is on Christmas Day at 7.00pm on BBC ONE.
13/12/2005, 14:35pm GMT
Blackpool has been nominated for a Golden Globe award for Best Mini-Series or Motion Picture Made for Television. They are up against Empire Falls, Into The West, Sleeper Cell and Warm Springs.
13/12/2005, 14:33pm GMT
Thanks to Jennifer for letting us know that Casanova received the award for 'Best imported miniseries/telemovie' from the Sydney Morning Herald's couch potato awards. From 'The Guide', here is what Jacqui Taffel had to say:
Funny, witty, colourful and naughty with excellent writing, acting, dancing and costumes, Casanova (ABC) got the big smooch. The against-type casting of David Tennant was genius. "He wasn't good looking, but I'd give him one," said one female judge. Runner-up was Richard Four Weddings Curtis's Girl in the Café (ABC). Though some found it cloying, with gaping plot holes, the pairing of Bill Nighy and Kelly MacDonald was eminently watchable and no one was arguing with the right-on political message.
13/12/2005, 14:32pm GMT
David is featured as his Harry Potter character Barty Crouch Jr on a set of stamps in Australia. You can buy a souvenir set online
here
.
13/12/2005, 14:30pm GMT
Click a pic to enlarge!
There was a fab interview with David in Sunday's Observer, which was accompanied by the above photos.
Click
here
to read the interview.
08/12/2005, 15:32pm GMT
Radio 2 are now running a 60 second trailer for their Regenerations show. The trailer includes snippets of the interviews with David Tennant and Billie Piper. You can download it on MP3 from the official site
here
.
The show is due to be broadcast at 8.30pm on 20 December. You can visit the Radio 2 Regeneration site
here
.
07/12/2005, 17:01pm GMT
The Independent Online has a great new interview with David. Read it
here
.
06/12/2005, 18:41pm GMT
The forum will be the place to go over the Christmas holidays to get your David news and photos while we're on holiday!
06/12/2005, 18:36pm GMT
David and his Dad will be recording a celebrity version of Ready Steady Cook on Friday 16th December at The Capital Studios in London. If you would like to get tickets please register at
www.applausestore.com
06/12/2005, 18:29pm GMT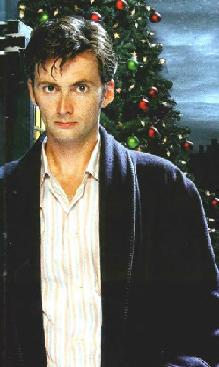 Click pic to enlarge!
I've scanned several articles and photos about the Christmas Invasion from the press:
05/12/2005, 21:30pm GMT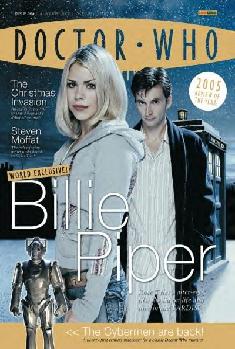 Click the pic to enlarge!
Many thanks to our friends at Outpost Gallifrey for the above photo and the following detals about the new issue of DWM:
Put on a party hat, pull a cracker, and countdown the hours to The Christmas Invasion with the new issue of Doctor Who Magazine!

This issue, the magazine speaks exclusively to Billie Piper - the Doctor's companion, Rose - in a massive '0-page interview. Billie chats about how Rose will cope with the new Doctor in the Christmas Special and Series Two...

"Rose is a bit more possessive this time around. I think it's because she feels like she's lost the Doctor once, and she doesn't want to lose him again. She's become a bit more jealous, which is something that's quite funny, but also destructive, as we'll find out...

"Sometimes Christmas specials don't really include Christmas. But ours does. There's lots of Christmas... and I'm such a Christmas freak! So yeah, Christmas ­ and a new Doctor, and an alien invasion. And isn't that everything that you could possibly want from a Christmas special? Oh, and crackers!"

Plus, of course, there's a full preview to the Tenth Doctor's festive debut, with dozens of photos from the story.

Meanwhile Steven Moffat, writer of the poll-winning The Empty Child and The Doctor Dances looks back at the success of his first Doctor Who adventure and chats about writing for the new Doctor in The Girl in the Fireplace.

Plus: there's a look back at 2005 in the Review of the Year; Sorvad takes a journey with the Ghost of Christmas Past; and a very special story, Voice from the Vortex, which has dropped through from a terrifying parallel dimension.

Meanwhile, the Watcher returns with his Christmas Quiz; the Time Team watch The Armageddon Factor; the Ninth Doctor reaches his final comic strip adventure, A Groatsworth of Wit; and Russell T Davies returns with his own special version of The Twelve Days of Christmas in Production Notes...
05/12/2005, 21:25pm GMT
Many thanks to our friends over at the
Doctor Who Cuttings Archive
who have compiled a great list of TV magazines featuring articles about The Christmas Invasion:
Radio Times - has a stunning ten page special on Doctor Who plus a cover, as documented last week (see below). A cracking issue including a double page picture spoiler from 'The Christmas Invasion' and a chance to win a Dalek by spotting three small Daleks hidden throughout the magazine.
TV Times - includes a page and a half picture feature on page four highlighting 'The Christmas Invasion'.
Total TV Guide - another cover for Doctor Who - page three invites readers to 'open' the Tardis to reveal the Christmas treats by turning the page. Turn the page and you get a Tardis scene with David Tennant and Billie Piper plus a tree adorned with TV programme baubles. A double-page spread on page 10 offers a sneek peak ahead to series two, including a picture of Sarah Jane Smith (Elizabeth Sladen) from the classic series.
TV & Satellite Week - Doctor Who is on the cover - more details to follow.
TV Quick - runs a double page feature on 'The Christmas Invasion'.
TV Choice - has a small preview article for 'The Christmas Invasion' featuring a photo and an article a few paragraphs long. There's also a photo for Christmas Day.
TV Easy - includes a small picture feature on page 4

04/12/2005, 12:15pm GMT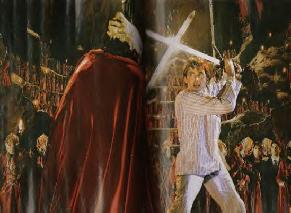 Click the pic to enlarge!
Many thanks to everyone who sent us this photo of David fighting the evil Sycorax.
03/12/2005, 20:00pm GMT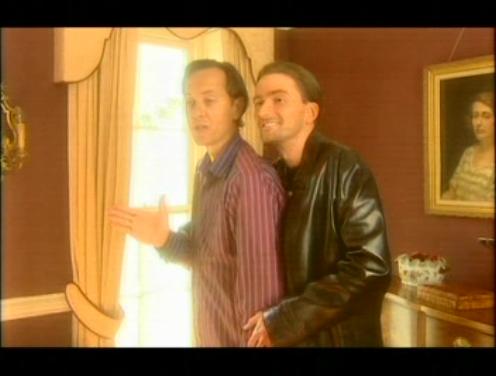 Click pic to enlarge!
I've made some caps from last night's episode of Posh Nosh. Click
here
to see them.
03/12/2005, 19:55pm GMT
Click on the links below to read the articles about David's new TV drama, Secret Smile:
Mr Nasty & Ms Nice *** new!
Tennant's Extra *** new!
Look Who's Stalking *** new!
Breaking Up Is Hard To Do *** new!
Too Good To Be True *** new!

03/12/2005, 19:53pm GMT
I've made some Exclusive new wallpapers for you in the
Downloads
section.
The Forum
also now has a 'Get Creative' section where you can post any wallpapers, icons etc that you have made.
03/12/2005, 15:44pm GMT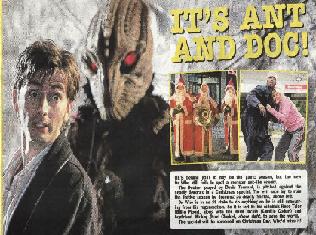 Click on a pic to enlarge!
I scanned the above articles from today's issues of The Sun and The Daily Mirror.
03/12/2005, 15:42pm GMT
David will be talking to Mark Lawson about being the new Doctor Who on the Front Row arts show next Thursaday 08/12/05 between 19.15pm and 19.45pm on Radio 4. Thanks to Juicyfruit for that information.
03/12/2005, 15:37pm GMT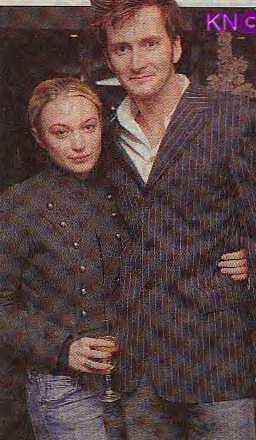 David and Sophia Myles were among guests celebrating the St David's Hotel in Cardiff being named one of the best hotels in the UK on Thursday night. Many thanks to Kati for the above scan from the South Wales Echo.
02/12/2005, 16:28pm GMT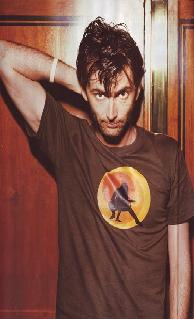 Click the pic to enlarge!
David is featured in something like 500 TV magazines this week, we will post all the articles, but it may take a while as we may have to go to various shops to avoid the assistants thinking we are totally insane - or have loads of TV sets or something! Anyway the first one from Radio Times is
here
. Thanks to Diana for the scans.
02/12/2005, 15:41pm GMT
Click a pic to enlarge!
The Official Doctor Who site has released the above promotional photos from The Christmas Invasion.
02/12/2005, 14:16pm GMT
The official Doctor Who BBC site has a quick trailer for the Christmas Invasion. Click
here
to see it!
02/12/2005, 11:14am GMT
The production of Look Back In Anger that David performed in at the Royal Lyceum, Edinburgh & Theatre Royal, Bath has been nominated for a What's On Stage Theatre Goers Choice Award for 2006, in the Best Regional or Touring Production catergory. Click
here
to vote!
01/12/2005, 15:40pm GMT
The BBC have launched their annual Drama Awards - feel free to vote for David as Casanova wherever possible! Click
here
to vote!
01/12/2005, 15:03pm GMT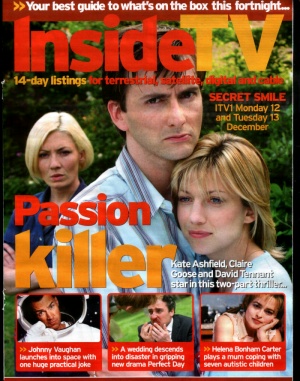 There is an article about Secret Smile in the current issue of Inside Soap Magazine click
here
to read it.
There is also an article about David in today's Daily Record click
here
to read that.
01/12/2005, 14:54pm GMT
'Christmas Time, mistletoe and wine, children singing...' Yes it's CHRISTMAS - well no it's not actually but it nearly is and this year we're even more excited then when Santa was bringing Barbie's penthouse apartment and that's due to one thing THE CHRISTMAS INVASION! Hurrah! Anway the usual monthly updates have been done...
News Archive
,
Fan Of The Month
and
Photo Of The Month...