29/05/2009, 07:40am GMT
David To Reprise Role Of Hamlet For BBC
David has signed up to reprise his role of Hamlet for BBC Two.
He will be joined by key cast members from the RSC production, including Patrick Stewart as Claudius.
BBC Two controller Janice Hadlow said the 180-minute screen production of Hamlet was "a wonderful opportunity to bring one of the great stage successes of last year to a wider audience".
Tickets for the stage performances, which opened in Stratford-Upon-Avon and later moved to London, sold out in hours.
After his debut appearance, the Guardian called Tennant the "best Hamlet in years".
In February his return to the stage as Hamlet was named the event of the year in the Whatsonstage.com Theatregoers' Choice Awards.
The full press release from the RSC can be seen below:
The Royal Shakespeare Company's award-winning production of Hamlet, directed by RSC Chief Associate Director Gregory Doran, and with David Tennant in the title role, will premiere on BBC Two later this year.
Produced by Illuminations, the screen version of Shakespeare's great tragedy will retain the quality and tone of the critically acclaimed stage production but filming will take place on location. All key original members of the cast, including Patrick Stewart as Claudius, are confirmed to star in this special 180 minute production, alongside the same creative team.
RSC Artistic Director Michael Boyd said; "We are very pleased that this RSC production will be seen by so many people when broadcast. As the show was sold out for its entire run, this is a really great opportunity for our work to be seen by so many who could not come to the theatre and see it on stage."
Filming begins in June for broadcast later this year on BBC Two. Broadcasts in the US and Japan will follow in 2010. Illuminations previously worked with Doran and the RSC on the filmed version of Macbeth with Antony Sher and Harriet Walter. Chris Seager will be in post as Director of Photography; Robert Jones, who designed the stage production, will also design the film and, as on stage, the music is composed by Paul Englishby, the movement director is Mike Ashcroft and the fight director is Terry King.
John Wyver is the producer for Illuminations and Bethan Jones is Executive Producer for BBC Wales. The project was commissioned by Ben Stephenson, Controller, BBC Drama Commissioning and George Entwistle, Controller, BBC Knowledge Commissioning.
The director Gregory Doran said "Contrary to press reports at the time, the RSC always had plans to make a recording of this production but had the inevitable long journey in getting the cast together again and securing funding for this project. The Hamlet cast and the RSC are all really delighted that we now have the chance to share this show with audiences around the world, and I would like to thank all those involved in making this plan a reality at last"
Janice Hadlow, Controller BBC Two said "It's a wonderful opportunity to bring one of the great stage successes of last year to a wider audience."
To support the new film of Hamlet, a rich online BBC site is being created in collaboration with the RSC. It will feature behind-the-scenes stills and footage; specially shot interviews with the actors talking about their characters and how they've approached the play; further interviews, with the director and other key backstage personnel; and a comprehensive range of links through to the full depth of BBC Learning's content on Shakespeare and RSC Education's content on Shakespeare in performance.
George Entwistle, Controller, BBC Knowledge Commissioning said "We hope we can use our experience in building compelling online sites to encourage a large TV audience to pursue their interest in Hamlet and Shakespeare as far as possible, off the back of a superb TV version of the play."
QI Christmas Special
David will be a guest on the Christmas special of QI. It was recorded in London last night and will air on the BBC over the festive period.
28/05/2009, 15:43pm GMT
BBC America To Air Latest Doctor Who Episodes
BBC America have secured the rights to show David's last episodes of Doctor Who before any other channel in the USA.
The Next Doctor will make it's debut on 27th June at 21:00pm followed by Planet Of The Dead which will air sometime the following month.
26/05/2009, 14:54pm GMT
David To Star In The Sarah Jane Adventures
Most Doctor Who fans weren't expecting to see David Tennant as The Doctor until November, but now it's been revealed he's going to star on CBBC first!
And it's not just a brief return either - The Doctor will play a big role in a two-part story of The Sarah Jane Adventures.
The third series of the Sarah Jane Adventures will be back on the CBBC Channel for 12 weeks from September.
Doctor Who boss Russell T Davies said: "Viewers thought they may have to wait until November for the next full episode of Doctor Who, but this is an extra special treat.
"And it's not just a cameo from David - this is a full on appearance for The Doctor as he and Sarah Jane face their biggest threat ever." The series will also see Sarah Jane, K-9, Clyde, Luke, Rani and Mr Smith battle a haunted house and the return of the Judoon.
New Doctor Who Animation On The Way
David will be voicing an animated series of Doctor Who which will debut this autumn. The BBC has commissioned seven episodes, which will be around six minutes long and which will be accessible via the red button. They are also due to be aired on Children's BBC.
The episodes will link together as a story called Dreamland, penned by Phil Ford, who has also written for Torchwood and The Sarah Jane Adventures. It will be directed by Gary Russell.
The cast on the animated episodes will include Georgia Moffett, David Warner and Lisa Bowerman.
25/05/2009, 13:15pm GMT
Last Updated 25/05/2009, 16:00pm
Tonight's The Night Doctor Who Scene
Watch the special Doctor Who scene from Tonight's The Night above and view screen caps from it
here
.
Everest ER
David has narrated a new series for BBC One called Everest ER and it starts tonight at 19:30pm.
Summit season is about to start at Everest Basecamp, and the doctors working at the highest hospital in the world gear up to deal with a constant stream of life-threatening emergencies.
With hundreds of climbers about to enter the death zone, it is only a matter of time before Everest claims its first casualties.
13/05/2009, 14:28pm GMT
Last Updated: 13/05/2009, 17:26pm GMT
David New Host Of Masterpiece Contemporary
David Tennant is the new host of PBS'"Masterpiece Contemporary." He will make his debut on the long-running public TV anthology this autumn.
"I'm honored to be hosting the series that introduced American audiences to programming such as Casanova and He Knew He Was Right," says David. "And it's a thrill to join the Masterpiece family of hosts: Mystery's Alan Cumming and Classic's Laura Linney."
"Masterpiece Contemporary" returns on the Public Broadcasting Service in October with "Endgame," a drama about the final days of apartheid in South Africa starring William Hurt and Jonny Lee Miller. It premiered at this year's Sundance Film Festival.
The "Masterpiece" series began as "Masterpiece Theatre" in 1971, and now also encompasses "Mystery!" — a public TV fixture since 1980.
1939 To Preview At Cannes
David's latest film project, Stephen Poliakoff's 1939, is due to preview at this year's
Cannes Film Festival
.
Meanwhile the
BBC Press Office
report that the film will now be going under the title Glorious 1939.
11/05/2008, 16:03pm GMT
Tonight's The Night Special Doctor Who Scene
If you've been watching John Barrowman's Saturday night entertainment show on BBC One then you'll know all about the monster competition that they've been running.
Members of the public have designed their own Doctor Who monster costume and are competing to be chosen to star in a very special Doctor Who scene on board the TARDIS.
The scene will feature a cameo from David and will air on BBC One on Saturday 23rd May.
Planet Of The Dead: Australian Air Sate Confirmed
The latest Doctor Who special, Planet Of The Dead will air on Sunday 31st May at 19:30pm on ABC1. You can watch a preview of it via the ABC1 website
here
.
Thanks to Annabel
David In AfterElton.com Hot 100
David has been voted #37 in the AfterElton.com Hot 100. Visit the site
here
to view the full list.
David Named Hottest Sci Fi Hunk In Blockbuster Poll
A survey carried out by Blockbuster last week has named David as the 'Hottest Sci Fi Hunk'.
The results were as follows:
The Doctor as played by David Tennant in "Doctor Who"
Han Solo in "Star Wars"
Neo in "The Matrix"
Lee Adama in "Battlestar Gallactica"
Fox Mulder in "The X Files"
Visit Blockbuster online
here
.
Secret Smile On Virgin Demand Service
Secet Smile is now available to Virgin Media customers via their on demand service.
Thanks to Gemma.
07/05/2009, 15:37pm GMT
David Auctioning Painting For ACCORD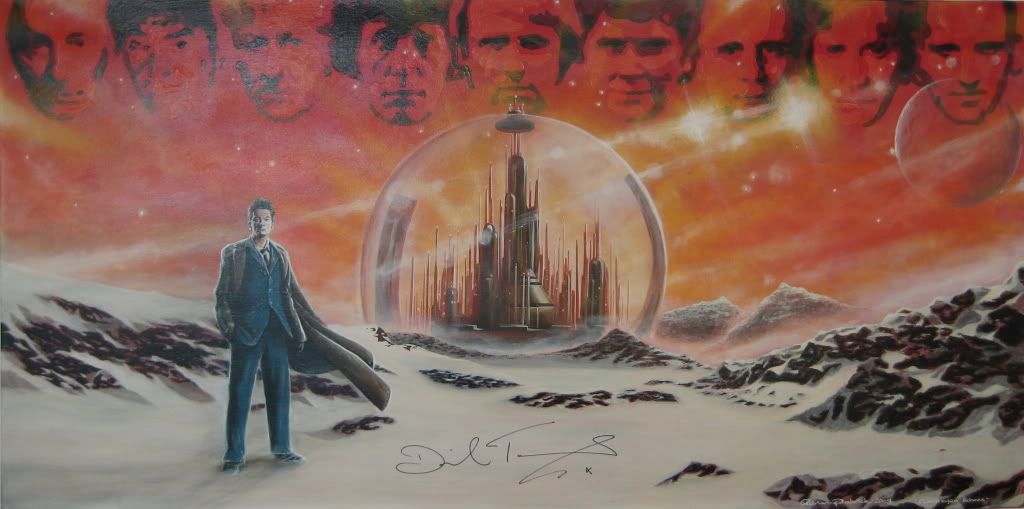 David was recently given a fabulous Doctor Who painting as a gift and he has kindly decided to sign it and auction it off to raise money for
the ACCORD Hospice
.
The painting is 4ft x 2ft large and was painted by the artist Adrian Patrick. It features the Tenth Doctor as well as the nine previous Doctors against the Gallifreyan landscape.You can bid for the painting and see larger images of it at eBay. Go to
www.ebay.co.uk
and Search for ""doctor who art work david tennant".
05/05/2009, 13:51pm GMT
Secret Smile UK DVD Release
Secret Smile will be getting an exclusive DVD release in the UK courtesy of HMV on 8th June 2009. It can pre ordered
here
for just £6.99.
Thanks to Mark.
02/05/2009, 15:51pm GMT
Problem Logging Into The Forum?
The forum hosts are upgrading servers etc at the moment and that seems to have resulted in some members having trouble logging into the forum. If you find that you are having trouble click
here
to access the forum and it should work!
We Are Astronomers Film Launch
David has recently narrated a science film called We Are Astronomers.
We are Astronomers is an exciting new 360° Fulldome digital planetarium show launching 23 May 2009 across the UK.
The show is being produced by NSC Creative with input from UK astronomers.
The film will be shown at the following locations across the UK:
Spaceport, Wirral
The National Space Centre, Leicester
Centre For Life, Newcastle
Our Dynamic Earth, Edinburgh
Royal Observatory, Greenwich
Intech Science Centre, Hampshire
Armagh Planetarium, Northen Ireland
30/04/2009, 15:56pm BST
BAFTA Update
We've added a couple of new photos of David backstage at Sunday night's BAFTA Awards
here
.
Plus you can watch him at the ceremony presenting Jane Tranter with The Spceial Award below:
27/04/2009, 08:00am BST
David At The BAFTA Awards
David attended the BAFTA Award ceremony in London last night. He presented the TV Executive and former controller of BBC Fiction Jane Tranter with 'The Special Award' for her outstanding creative contribution to the industry.
Unfortunately neither Doctor Who nor Einstein And Eddington won thir categories.
You can watch an interview with David and Jane above.
It's the 2009 BAFTA Awards tonight and two of David's recent projects have received nominations.
Doctor Who has been nominated in nine categories at the 18th annual BAFTA Cymru Awards, including Best Drama Series / Serial For Television.
The winners will be announced at a ceremony at The Millennium Centre in Cardiff on Sunday 17th May 2009.
David will be a guest on Stephen Merchant's show on BBC 6 Music this Sunday (19th April 2009) from 15:30pm.
Screen caps from Saturday's Doctor Who Easter Special, Planet Of The Dead have now been added to the site.
Unofficial overnight figures stated that Planet Of The Dead was watched by 8.41 million people. It was the most watched show on BBC One that day and the second most watched show across all networks.
David films the last part of his video diary in Dubai whilst recording Planet Of The Dead.
Doctor Who will return later this year with the new episode The Waters Of Mars.
Thanks to Heidi.
Thansk to Sue.
David talks snogging his co stars and explains why he is named after A Pet Shop Boy...
Make sure you set your alarm clocks again tonight as David will be a guest on BBC Breakfast tomorrow morning.
Breakfast is on BBC One from 06:00am - 10:00am.
Today's edition of GM:TV went behind the scenes of Doctor Who to see filming of Planet Of The Dead and chat to David.
Things look set to get steamy in the desert landscape of an alien planet between the Doctor and his latest companion Lady Christina.
Michelle Ryan who plays Christina in Planet Of The Dead, says "There is a little spark between the Doctor and Christina. I think Christina feels like she's met her equal — and the Doctor feels like he's met his match with Christina."
Meanwhile David says of the Easter Special, which is to be shown tomorrow on BBC One and BBC HD at 18:45pm, "The story in the special is a bit bonkers. It's fast moving and very exciting and something bigger than we've managed before. The writers always come up with something different each time and I'm always amazed by the storylines".
The story starts with Michelle's character who is a thief trying to escape the police by boarding a London bus. David says:
"'London transport being what it is, it slips through a wormhole in time and space and ends up on a planet on the other side of the universe.
There's an alien race that are on the planet called the Tritovores and then there's also stuff going on back on Earth as well.
David says that the Easter Special is the last chance for the Tenth Doctor to have 'a romp' as the story starts to build up into the 'death' of his Doctor..
"'It's got some dark moments. There's a tiny little hint at the very end that it's all about to get a lot darker. Because obviously at the end of the year it's the end of the line for the Tenth Doctor. This is kind of a romp. This is the last time the Doctor gets to have fun, in a way."
Thanks for this go to Diane.
Watch David and Michelle chat about Planet Of The Dead in the new interview above.
And below are some photos of David signing for fans outside Radio 1 yesterday.
David told Jo Whiley on Radio 1 yesterday that he 'might have had a little cry' whilst reading his final Doctor Who script. He said:
"I might have had a little cry. They were brilliant scripts and very moving. It was quite a big deal really. I sort of turned the phone off and made sure I could read it straight through without too much interruption."
He also said that he doesn't know how he'll feel when his last day on set comes around in about six weeks time:
"I don't know. It'll be interesting. The last day, of course, isn't the last scenes as filming is now always out of schedule. So I don't know if I'll be sadder on the last day or filming the final scenes. That remains to be seen. It's weird because it's been four years. It 's been so all consuming and so life changing. It's been such a big thing."
David's interview is around 2 hours into the show.
A new Doctor Who audio CD has been released today.
Bernard Cribbins reads this gripping story of a new star and an ancient alien threat. Donna Noble is back home in London, catching up with her family and generally giving them all the gossip about her journeys. Her grandfather is especially overjoyed - he's discovered a new star and had it named after him. He takes the Doctor, as his special guest, to the naming ceremony. But the Doctor is suspicious about some of the other changes he can see in the Earth's heavens. Particularly that bright star, right there. No, not that one, that one, there, on the left...The world's population is slowly being converted to a new path, a new way of thinking. Something is coming to Earth, an ancient force from the Dark Times. Something powerful, angry and all-consuming...Featuring the Doctor and Donna as played by David Tennant and Catherine Tate in the hit series from BBC Television.
Prisoner Of The Daleks is a new Tenth Doctor novel..
The Daleks are advancing, their empire constantly expanding in to Earth s space. The Earth forces are resisting the Daleks in every way they can. But the battles rage on across countless solar systems. And now the future of our galaxy hangs in the balance...
Available for just £4.89 in our shop.
Companions And Allies is a guide to all the Doctor's friends and companions...
The Doctor has been travelling through space and time for centuries, showing his friends and companions the wonders of the universe. From Sarah Jane Smith and the Brigadier to Martha Jones and Donna Noble, Companions and Allies celebrates the friends that have been by his side and the heroes that have helped him battle his deadliest foes. Beautifully illustrated and including, for the first time, a complete story guide to the adventures of all ten Doctors, Companions and Allies is the definitive guide to the Doctor's intergalactic family.
Available for just £4.58 in our shop.
David rounded off his day of radio interviews by chatting to Colin Murray, who was presenting The Simon Mayo Show on BBC 5 Live.
David brought along his vetebrate that was removed in his operation at the end of last year! You can see it in the above pics...Yuk!
David was on The Christian O'Connell Show on Absolute Radio this morning were Christian wired him up to a lie detector over his claims he has no work lined up after Doctor Who!
David will be a guest on The Simon Mayo Show on BBC Radio 5 today. He will be chatting about the new Doctor Who Easter Special from 14:00pm.
Meanwhile Jo Whiley has just confirmed David will be with her from around 12:00pm over Radio 1.
Click a pic to enlarge!
The magazine stands are full of covers featuring David and his Doctor Who co star Michelle Ryan.
GM:TV preseneter Emma Crosby visited the set of Doctor Who during the filming of Planet Of The Dead and her report will be shown on Friday's (10th April) show between 06:00am and 09:25am on ITV1.
David and Russell T Davies spoke to The Sunday Times about their decisions to leave Doctor Who and reveal what we can expect from the Tenth Doctor's last adventures.
David has been named favourite Doctor by readers of Doctor Who Adventures with a massive 86% of the vote.
Christopher Eccleston came second with 12% and Tom Baker third with 9%.
Moray Laing, editor of the magazine, said "Congratulations to David Tennant for winning our favourite Doctor poll – he's a fantastic Doctor, brilliant actor and great role model for children. Doctor Who Adventures readers can hardly wait for his next special this Easter!"
Details of the Easter Special Doctor Who Confidential have been revealed. It will air at 20:30pm on BBC Three on Saturday 11th April. It will be an hour long and will feature the usual interviews with cast and crew and an exclusive look behind the scenes at the filming process of Planet Of The Dead.
David will be standing in for Jonathan Ross and presenting his radio show on Saturday 11th April.
He will be joined by Catherine Tate and The Proclaimers will be providing live music. Tune in on BBC Radio 2 from 10:00am - 13:00pm.
The exciting trailer for Planet Of The Dead is currently airing across the BBC network, you can also see it above. Planet Of The Dead will air on Easter Saturday, 11th April at 18:45pm!!
The DVD of Planet Of The Dead will be released on 25th May and it can be pre ordered from our shop for just £10.68 (RRP £15.99)
The BBC have released more new images from Planet Of The Dead. You can view the full set here.