David was interviewed on Totally Doctor Who this afternoon. He chatted about filming the series and asked the questions in the weekly Who-Ru quiz. They showed behind the scenes looks at New Earth and a prevew of Tooth and Claw. David was also presented with a cake for his birthday!
The next episode of Doctor Who, Tooth and Claw, wil air on BBC One at 19:15pm on Saturday 22nd April.
The Media Guardian are reporting that David Tennant will be starring in a new BBC Drama, Recovery, about a man who suffers a debilatating brain injury in a car accident. David's Blackpool co-star Sarah Parish will play his wife who has to come to terms with the responsibilty of becoming a carer for her husband. Filming starts next month and the show is expected to air in the Autumn.
So the Doctor and Rose have finally begun their adventures, with the quite frankly fantabbytosie episode New Earth, airing on Saturday!
The new series of Doctor Who pulled in 8.3m viewers on Saturday night. The debut episode New Earth was the highest watched show of the day.
The articles below have more details:
Only joking! Of course something is happening tomorrow and all at D-T.com would like to assure you that we are not already situated in our favourite arm chairs with the remote control safely in our posession just in case any event during the next 26 hours or so prevents us from seeing the debut episode in the new series of Doctor Who! Oh no not us!
Anyway if like us, you can't possibly wait any longer the lovely people on BBC One have provided us all with a Red Button preview, meaning if you press the red button whilst watching BBC One you should be transported through a time vortex and shown the many wonders that the Doctor and Rose saw on their latest time travelling adventures...or something like that anyway.
David was a guest on the Radio 1 Jo Whiley show today and if you go to the Radio 1 site you can listen to the chat again. You can also listen to David on The Virgin Breakfast Show from yesterday.
Click pic to enlarge!
The Daily Star have the above photo and an article discussing some of the monsters and aliens that the Doctor and Rose will be meeting in the new series and The Sun has an article by David's old school teacher, talking about his essay on his dream to be the Doctor.
Meanwhile the Daily Record are reporting on David falling ill after finishing the gruelling Doctor Who schedule.
Meanwhile Totally Doctor Who aired for the first time on BBC One earlier today and David will be in the studio to be interviewed on the show next week.
Today was a bit of a Tennant Telly Fest, with appearances from David on This Morning and Ready Steady Cook!
Doctor Who continues to dominate the magazine stands as well with more new articles on New Earth and a fab intervew in the latset SFX.
BBC America have bought Secret Smile, in which David stars as the boyfriend from hell, Brendan Block, and will be showing it in two parts from 27th May 2006.
Tomorrow is a particularly busy day for David spotting on the TV and radio. He will be featured on Virgin Radio's Christian O'Connell Breakfast Show.
Meanwhile GM:tv will be having un-named Doctor Who cast members in for a chat, as will This Morning who are doing a Doctor Who Special. Then it's over to BBC2 for Ready Steady Cook with David and his dad.
Literally all of the TV Guide magazines are running articles on New Earth, the Radio Times is by far the best with a snazzy cover and interviews with David and Billie Piper among it's treasures.
The new issue of SFX is released tomorrow and it features a fab new interview with Mr Tennant so it's a must have for us all.
Glamour magazine will be having a beind the scenes feature in their new issue, but we've got a first look at it in the Interviews section and Heat magazine features snippets from the Press Launch interview in it's current issue.
Last night's Doctor Who Night on BBC Three included the fabulous Doctor Who Confidential: One Year On and I've made some caps, which do include spoilers, for the site.
Don't forget that David will be on Ready Steady Cook on Wednesday at 16:30pm BST on BBC Two. There will also be some of the Doctor Who cast on GM:tv on Wednesday morning.
The Official Doctor Who Site have revealed details from the latest issue of the Radio Times.
Today's Telegraph has a fantastic article written by David all about a day on set as Doctor Who, how he is coping with his new role and how it has changed his life. It really is an amazingly interesting read.
We haven't even had the first episode of the new series of Doctor Who yet, but already the press are revealing secrets of Tooth and Claw, the second episode. And there's scary things to come as the Doctor and Rose battle to save Queen Victoria from a hell raising WereWolf in 19th Century Scotland! The Sun and The Daily Star are among a few to run the story and Russell T Davies says "It's one of the scariest episodes of the series and possibly my favourite. I thought it was time to go for broke. It's scary but - I hope - good scary.'
The episode will air on BBC One on Saturday 22nd April.
David is featured in this month's Red magazine. We've got the article and some wallpapers for you.
David Tennant, Billie Piper and the Doctor Who team where in Glasgow yesterday, for the launch of the second Doctor Who episode Tooth and Claw, and to celebrate the fact that David uses his native accent as he defends Queen Victoria from an evil WereWolf!
David and Russell T Davies were featured on Radio Scotland this morning and David confirmed that he has a new project coming up over the summer that will be 'Totally different to Doctor Who' We'll bring you the latest on that as we get it.
If you have emailed us with a query recently then please be patient, we've been absolutely inundated with emails about David and we are working our way through them. Thanks for contacting us though and we promise we will always reply to you all. Sarah x
David will be a guest on the Jo Whiley show on Thursday 13th April 2006 on BBC Radio 1.
David and Billie are the cover stars on yet another magazine. This time it's Starburst. The mag is packed with behind the scenes articles including interviews with series writer Toby Whitehouse and Tooth and Claw actress Pauline Collins. It also comes with a free double sided A3 poster featuring the Doctor and Rose.
Get yourself thoroughly prepared for the start of the new series of Doctor Who by watching BBC Three's Doctor Who Night on Sunday 9 April.
The evening kicks off at 7pm with a brand new hour-long edition of Doctor Who Confidential. Narrated by Mark Gatiss, this special programme, entitled One Year On, will take viewers on a retrospective journey through the 2005 series of Doctor Who.
This new special will also give viewers some tantalising glimpses of what they can expect to see in the weeks to come on BBC One, including some frightening new baddies and the return of a certain mechanical mutt...
Following on at 8pm is another chance to catch David Tennant's debut as the Doctor in The Christmas Invasion. In this special 60-minute adventure, the planet Earth is left vulnerable to alien attack as Rose tends to the unconscious, recently-regenerated Doctor.
Rounding off the evening is a repeat of the 2003 documentary The Story of Doctor Who, created for the programme's 40th Anniversary. It's a must for anybody who wants to learn more about vintage Doctor Who.
Make sure you don't miss anything by checking our Diary regularly.
The Scotsman are running an article today on why the Doctor Who team decided that David shouldn't use his native accent for the role. This is what they say:
The Doctor Will See You Now!
02/03/2006, 14:04pm BST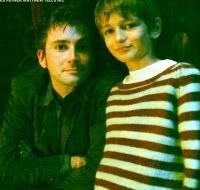 There is a nice interview with David in today's Sunday Telegraph. It's by Matthew Norman who took his little boy Louis, henceforth known as the luckiest boy in his class, to meet the Doctor and Rose on the set of the new series.
Nothing Will Ever Be The Same Again!
01/03/2006, 21:16pm BST
The new Doctor Who trailer aired today for the first time on BBC one at 19:00pm. It featured the Doctor and Rose in the TARDIS and was interspersed with clips from some forthcoming episodes.
Guardian Angel!
01/03/2005, 21:08pm BST
David is featured in The Guardian today, discussing his style and modelling some cool clothes.
You can read the interview and see the photos
here
.
The Guardian also had a podcast featuring David Tennant and his Doctor Who co star Billie Piper here.
Check out the rest of the Interviews Section for even more new interviews with David.