Site Updates!
29/10/2006, 18:36pm BST
Don't Forget To Vote!
Just another reminder that it's The National Television Awards on Tuesday 31st October, but there's still time to cast your vote!
David Tennant is up for the award for Most Popular Actor.
It's been a good year for Doctor Who, with David's co star Billie Piper nominated for Most Popular Actress and the show up for Most Popular Drama.
Make sure you cast your vote for David & Billie online here or by calling 09018 88 88 99
calls costs 25p per minute and should last no longer than 5 minutes. Mobile rates may vary.
Site Updates!
28/10/2006, 17:54pm BST
David Wins Most Stylish Male Award!
Singer-songwriter KT Tunstall and Doctor Who actor David Tennant were voted Scotland's top music and fashion style icons last night at a ceremony honouring the country's most fashionable movers and shakers.
The Scottish Style Awards 2006, now in their second year, were set up to reward outstanding contributions from individuals, establishments and enterprises within the creative industries.
Judges at the ceremony held at the newly-restored Kelvingrove Art Gallery and Museum in Glasgow included artist Tracey Emin, Dylan Jones, editor of GQ magazine, Rankin, the photographer, and Andrew Fairlie, one of Scotland's top chefs.
The 12 award categories ranged from special awards for contemporary style icons and "tastemakers" to recognition of Scotland's most stylish bar, hotel, restaurant, and High Street or designer retailer.
KT Tunstall scooped the most stylish Scottish musician award while Tennant, famous for his old trainers and tweed coat worn in his Time Lord role, was voted Scotland's most stylish male.
The jazz singer Niki King won the most stylish Scottish female category.
Nancy McLardie, from Glasgow City Marketing Bureau, said the awards were instrumental in making people see Scotland and its talent in a positive light.
"There has been a tremendous renaissance in Scotland in terms of style and fashion in many sectors over the past couple of years. This has most definitely changed our image and is making people outside Scotland look at our talent differently."
The best bar award went to Scotts in Troon while Abstract in Inverness won best restaurant.
Source: The Scotsman
Site Updates!
27/10/2006, 16:42pm BST
Stars Signatures Raise Money!
David was among 200 celebrities who donated signed items to be auctioned for charity on eBay. David signed a copy of the Doctor Who Novel The Stone Rose and it raised £193!
Other celebrities including Madonna, Kate Winslet, Ex Spice girl Mel C and George Michael also donated signed memrobilia for the sale.
Scottish Style Awards
The Scottish Style Awards take place at Glasgow's Kelvingrove Art Gallery and Museum tonight. Fingers crossed for David who has been nominated for the Most Stylish Male award.
Gallery Updates
Screen Caps of David's recent appearance on Blue Peter and from the film Traffc Warden are now available in the
Photos Section.
Site Updates!
20/10/2006, 16:32pm BST
Torchwood Premiere!
Click the pic to enlarge!
David Tennant and Billie Piper were among guests at the premiere of the Doctor Who spin off Torchwood earlier this week.
After watching the preview Billie said 'Seeing Torchwood made me scream 'I wanna do that!!'.
She also commented on the relationship between the Doctor and his new assistant Martha in the forthcoming series saying; "Sounds like the Doctor will be on the rebound. But it will never work between them. I can't wait to see what happens."
Torchwood airs on Sunday 22nd October on BBC Three at 21:00pm.
Billie Piper will be on Friday Night With Jonathan Ross tonight on BBC One at 22:35pm.
Thanks to Janet for the above photo.
Children In Need Concert Sells Out!
Tickets for the spectacular one-off Doctor Who concert in aid of BBC Children in Need went on sale today and sold out in record time.
The star-studded concert takes place at the Wales Millennium Centre in Cardiff on Sunday 19th November.
If you missed out on tickets, you'll be pleased to hear that the concert will be recorded by BBC Radio Wales and aired at a later date. It will also be filmed by Doctor Who Confidential for a special documentary to be shown later in the year.
Site Updates!
17/10/2006, 16:29pm BST
The National Television Awards Nominees Revealed!
The nominees for The National Televistion Awards have been announced and David Tennant is up for the award for Most Popular Actor.
It's been a good year for Doctor Who, with David's co star Billie Piper nominated for Most Popular Actress and the show up for Most Popular Drama.
Make sure you cast your vote online at www.itv.com/nta or by calling 09018 88 88 99
calls costs 25p per minute and should last no longer than 5 minutes. Mobile rates may vary.
The full list of nominees in the Most Popular Actor catergory are: Bradley Walsh, Coronation Street. Chris Fountain, Hollyoaks. Matthew Fox, Lost. Ross Kemp, EastEnders and David Tennant, Doctor Who.
The full list of nominees in the Most Popular Actress catergory are: Evangeline Lilly, Lost. Lacey Turner, EastEnders. Sue Cleaver, Coronation Street. Ursuala Holden Gill, Emmerdale. Billie Piper, Doctor Who.
The full list of nominees in the Most Popular Drama catergory are: Bad Girls, Desperate Housewives, Lost and Doctor Who.
The awards will be given out at a star studded ceremony at London's Royal Albert Hall on Tuesday 31st October and will be televised on Monday 1st November on ITV.
Blue Peter Competition Details!
Below are the details of the new Blue Peter, Doctor Who competition!
How To Enter!
To enter, send in a video of you performing one of our Dr Who audition scripts. Pick your favourite from the three scripts on the right hand side of this page and then record it. Please make sure you start your entry with the message "Hi Blue Peter I'm xxxxxx and this is my audition for Doctor Who" so we know you have shot the video specially for us. Unfortunately we can't return any of your videos.

Get Permission!
Before you film anything you might like to read our filming guidelines and tips on the right hand side, written by Doctor Who's Casting Director, Andy Pryor.
However you send in your entry you must provide us with your details, get your parents/guardians to sign the consent form (on the right) and send it to us by post before we can consider it for use on Blue Peter.
Sending Your Entry!
By Post! Post a tape (any format) or DVD of your audition together with the signed consent form to:
Blue Peter Dr Who Competition
PO BOX 19
Television Centre
Wood Lane
London W12 6BP

Or By Email! Email your entry to bluepeter@bbc.co.uk and make sure you put 'Doctor Who Competition' in the subject line. Don't forget to send your signed consent form in the post. Please note that your email file cannot be larger than 10Mb or it won't get through.
Or By MMS! You may be able to record your audition as a video message on your mobile phone and send it in by MMS. Text BP WHO in the subject header, and your recording to 078 349 62222. Messages will be charged at operators' standard MMS video rates. Ask permission. Note that most mobile phones can only process 10 second clips. The cost for sending video clips is charged at standard rates and varies from operator to operator. Viewers should check with their individual operator for exact costs and check also that your phone and network will allow you to send in a one minute clip.
If you are lucky enough to get through to the next stage we will be in touch.
Prizes!
OVERALL WINNER – will win the part in Doctor Who, and all

expenses paid trip to the Doctor Who set. Blue Peter will make a behind the scenes film of winner's experience
THREE FINALISTS – will win an all expenses paid trip to the "Doctor Who Up Close" Exhibition in Cardiff.
TEN FINALISTS – will each win a signed box set of the second series
250 RUNNERS UP – will each win a Doctor Who book and action figure (N.B. there are a variety of action figures)

The Closing date is 10th November 2006! Good Luck!

Visit the Official Blue Peter Website for more details here!

New Novels Released As Audio Books!

The Nightmare of Black Island, The Price of Paradise and The Art of Destruction are to be released as audiobooks on 6 November 2006.
Don Warrington (Rise of the Cybermen) will narrate The Art of Destruction, Anthony Head (School Reunion) will read The Nightmare of Black Island and Shaun Dingwall (Pete Tyler) tackles The Price of Paradise.
Each CD - featuring the adventures of the Tenth Doctor and Rose - also includes a bonus discussion between the book's author and its narrator.
Site Updates!
15/10/2006, 18:13pm BST
Blue Peter Competition!
Blue Peter viewers will be offered the chance to win a speaking part in the third season of the revived Doctor Who.

The competition will be launched on Monday 16th October, according to The Sun, with aspiring young actors being encouraged to make an audition tape and send it in. These will then be judged by Tardis-dweller David Tennant and executive producer Russell T Davies. Only under-14's will be able to enter.

Blue Peter has a long history of ties with Doctor Who. Former presenters Peter Purves, Sarah Greene, Janet Ellis and Christopher Wenner all had roles in the original run of the sci-fi drama, while many Doctors and monsters have appeared on Blue Peter.

Last year, nine-year-old viewer William Grantham won a competition to design a monster for the revived series. This materialised in the episode 'Love and Monsters', where his Absorbaloff creation was portrayed by comedian Peter Kay. There were a total of 43,920 entries - the most for a Blue Peter competition since 1993.
Site Updates!
13/10/2006, 11:49am BST
New Projects!
Due to the huge amounts of emails we have been getting from you about David's latest work projects we decided to get the official word for you:
The air date for Recovery, the drama that David filmed earlier this year with Sarah Parish, has been put back. The date has yet to be confirmed but it is looking likely to be Spring 2007.
Also further to reports from Screen Daily that David is to star opposite Emily Blunt in Cheerful Weather For The Wedding. We can confirm that David is in talks but that nothing has been confirmed at this point.
We will let you know if we get any more information.
Make An Appointment For The Doctor!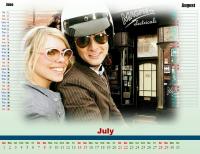 The new D-T.com 2007 calendar is online and ready for you to download!
After the run away success of David's role as the Doctor in Doctor Who we just had to do a Doctor themed calendar for 2007!
Click
here
to download it and print it off!
And talking of Doctor Who we have some new wallpapers of David as the Doctor for you to download too!
You can view the whole collection of wallpapers
here
!
Site Updates!
08/10/2006, 16:05pm BST

Doctor Who – A Celebration

Wales Millennium Centre will play host on Sunday 19th November to the BBC National Orchestra of Wales and the BBC National Chorus of Wales as well as stars from Doctor Who in a spectacular in aid of BBC Children in Need...

The BBC's multi-BAFTA award winning drama Doctor Who are working together with the BBC National Orchestra of Wales to stage a spectacular one off event in aid of BBC Children in Need on the 19th November.

The star-studded concert which will take place at the Wales Millennium Centre in Cardiff will feature the BBC National Orchestra of Wales performing selections of Murray Gold's celebrated incidental score, accompanied by a host of stunning visuals from the most recent series of Doctor Who.

The audience can also expect live appearances from some of The Doctor's greatest enemies including the infamous Daleks and the villainous Cybermen.
David Tennant who plays the time travelling Doctor has confirmed that he will be on hand to take part in a question and answer session alongside Doctor Who Writer and Executive Producer, Russell T Davies and Murray Gold. ....

Ticket prices will include a donation to BBC Children in Need and the official programme will also have proceeds going to the BBC Children in Need Appeal.

Kicking off at 18.30pm on Sunday 19th November, tickets can be bought and booked directly from the Wales Millennium Centre from 20 October 2006 - prices are £20, £16, £14, and £10. Children under the age of 16 will be half price.
Thanks to Hugh.
Site Update!
07/10/2006, 17:14pm BST
David In DWM!
David has given an exclusive interview to DWM and it's in the latest issue out on 12th October. In it David reveals the highlights of playing his dream role as the Doctor and chats about what the future may hold:
What I suppose is eternally fascinating is the emotional side of someone who apparently has no emotional side," David considers. "The relationship with Rose became, to all intents and purposes, a love story.

You learn how malleable the character can be – the show doesn't disappear in a puff of smoke if the Doctor does things that apparently he's never done before. It's not the end of the series if he snogs Madame de Pompadour. I'm interested in how we can push that – not necessarily sexually, but in other aspects as well. How can we tweak at the corners of the established myth without pulling it apart?"

And here's the $64-million question: would David like to sign up to film a third series? "It's a funny question, that, isn't it? As soon as I accepted this job, the first question I got asked was, 'How long are you staying?' It's difficult to judge, because there's an element of being in a long-running show that's a gamble, because I am 35 now, and if I stayed in this for as long as it was humanly possible, I'd still have to have some kind of a career at the other end of it, so it's judging when is the right moment to go.

I think I now know how many series I'm going to do, and Russell, Julie, and I have talked about it, and will continue to talk about it, but I think it would be stupid of me to say more than that right now - anything can happen, and everything can change..."

Also in the new issue, DWM eavesdrops on the Eighth Doctor's return in the new Doctor Who radio series for BBC7, with exclusive interviews with Paul McGann and his new companion, Sheridan Smith, as well as a host of guest stars.

Monster maker Neill Gorton stops by to explain the secrets of making Slitheens, Ood and the Abzorbaloff, and offers readers the chance to win a genuine Cyberman helmet! Meanwhile, the Doctor and Rose land on the good ship Lady Godiva - and meet its rather outlandish crew! - in a new comic strip adventure, Interstellar Overdrive.

Plus: The Time Team greet the Fifth Doctor; the latest news on Series Three; new photos and information on spin-off series Torchwood; The Sontaran Experiment DVD is previewed; a look back at Doctor Who Confidential and Totally Doctor Who in After Image; the Fourth Doctor, Romana and K9 answer readers' questions in the Matrix Data Bank; plus news; reviews; competitions and a special shiny silver cover! Jings!

DWM 375 is published on Thursday 12 October 2006, priced £3.99.
Site Update!
01/10/2006, 19:21pm BST
Who's On The Box!
Here in the UK re runs of Totally Doctor Who continue to air on the CBBC Channel this week. And BBC Three start their repeats of Series Two yet again on Wednesday 4th October.
In Hong Kong The Doctor and Rose travel back in time to the 1950's to investigate strange happenings in The Idiot's Lantern on Monday 2nd October.
Tuesday 3rd October sees The Age Of Steel airing on Ztele in Canada.
And it's the end of the journey for Rose Tyler in New Zealand and Australia this week as Doomsday shows there on Thursday 5th October on Prime TV and Saturday 7th October on ABC, repectively.
And in the USA the fun continues on Friday 6th October when Tooth and Claw will be shown on Sci Fi.
Check
The Diary
for furher details of show times etc...
Christmas Project!
Yes we know it hasn't even been Halloween yet...but we need you to start sending in your messages, photos, drawings etc for our Christmas Book!
Site Update!
27/09/2006, 17:53pm BST
Record Breakers!
Doctor Who has earned itself a mention in the new Guinness Book Of Records. It has broken the record for the Longest Running Science Fiction TV Series.
Russell T Davies said: "This achievement is all thanks to the remarkable production team who first created Doctor Who in 1963, and the audience, who've kept it alive for all these years."
David Tennant accepted certificate on behalf of the Doctor Who team.
Who Do You Think You Are Caps!
Screen caps from last night's Who Do You Think You Are? are now available
here
.