Site Updates!
28/02/2007, 18:53pm GMT
Doctor Who Air Date Confirmed!
BBC bosses have confirmed to Sci Fi magazine, Dreamwatch, that the official air date of the new series of Doctor Who is Saturday 31st March 2007.
It is thought that a full press release will follow soon.
The current issue of DWM states it will be 24th March, but they have issued a statement saying this infomation has changed since they went to press.
More Episode Titles Revealed
The new issue of DWM reveals more episode titles from the new series of Doctor Who.
Episode 8 : Human Nature by Paul Cornell
Episode 10: Blink by Steven Moffat
Episode 12: The Sound Of Drums by Russell T Davies
For more information visit the Doctor Who Series Three Section
here
.
New Photos
We have added some new photos of David to the Image Archive.
The Runaway Bride DVD Cover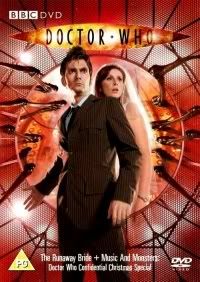 Click here to enlarge the pic!
The Runaway Bride will be released on DVD on Monday 2nd April 2007.
As well as the hour long Christmas Special it will include Doctor Who Confidential and the full length Children In Need concert, Music and Monsters, previously broadcast as a red button service feature.
The 2007 series will also be released as Vanilla DVDs throughout the year and then a Box Set will follow in Autumn featuring bonus material.
David To Light Up Blackpool
David has been confirmed as the special guest at this year's Blackpool Illuminations. He will flick the big switch on Friday 31st August 2007.
The display can be seen until Sunday 4th November 2007.
For more details click
here
.
The Who Crew
Today is the last date for entries for the Who Crew. The winners will be announced on the site next week!
Site Updates!
27/02/2007, 16:04pm GMT
New DWM Details
Click the pic to enlarge!
It's time to start getting excited about the new series of Doctor Who, ok you are probably already excited, but we mean REALLY excited!
If the new issue of Doctor Who Magazine doesn't get you excited then you have possibly been the victim of some sort of Cyber ugrade!
Countdown to the launch of Series Three with the new issue of Doctor Who Magazine!

This issue, producers Julie Gardner and Phil Collinson are given a grilling - not by DWM, but by their own colleagues! Find out whether Michael Sheen is going to be the Eleventh Doctor, why Julie Gardner's windows have been nailed shut, and what the bathrooms are like in the TARDIS. Meanwhile David Tennant asks Phil and Julie... "Are the Zarbi coming back?"

"Phil, you'd better take that one!" laughs Julie.
"Well, we have agonised, actually, whether or not to bring back the Zarbi," Phil replies.
"Which ones were the Zarbi?" asks Julie.
"The Zarbi were in a story [The Web Planet] in like 1965 or something," Phil explains. "They were great big giant ants, which were actually ballet dancers in black tights, with a fibreglass ant on top of them. They would look rather marvellous in colour, it's true to say, but I can exclusively reveal that we are not going to be bringing back the Zarbi, I'm sorry David. He's lobbied hard for them, but we just think they're going to be too frightening for young children."
Perhaps they could feature in Torchwood?
"Yes, I'll take them!" pipes up Julie. "Phil, hand me your Zarbi!"

Also this issue, there's a full preview of Episode 1, Smith and Jones, with brand new photographs and information on the Doctor's first meeting with medical student Martha Jones. Meanwhile, their alter egos David Tennant and Freema Agyeman record vocals for the new Doctor Who cartoon, and have a go at drawing themselves exclusively for DWM. The Infinite Quest is given a full preview, with design drawings and exclusive backstage photos and interviews.

Plus: Doctor Who's longest-serving crewmember, director Graeme Harper, tells DWM about bringing back the Cybermen, working with six different Doctors, and what's in store for his two latest episodes, 42 and Utopia; former series script editor Terrance Dicks chats about his new novel Made of Steel and gives his views on the return of Doctor Who; writer Stephen Greenhorn gives a few hints about his new episode The Lazarus Experiment; and the Black Guardian and Turlough answer questions in the Matrix Data Bank.

Meanwhile the end of the world approaches, as the Doctor and the Brigadier try to stop the invasion of Upper Wardleswick in the devastating final part of the new comic strip, The Warkeeper's Crown. Who will survive the final battle?

On top of all this, there's a FREE Doctor Who CD from Big Finish Productions, all the latest reviews in Off the Shelf, a Space Cake in Production Notes, and more exclusive news in Gallifrey Guardian - including three new episode titles, and one very important piece of information which was all true and correct when we went to press, but is, um, not actually true and correct anymore. And it's printed on four different pages. See if you can spot it...

DWM 380 is on sale from Thursday 1 March 2007.
The 50 Greatest TV Dramas
C4 are having another of their 'list' shows. We're expecting a Top 100 Greatest List Shows That We Have Made to be on the schedule very soon.
However this is one that is an exception to the usual tedious TV marathons because it is focusing on The 50 Greatest TV Dramas ever made and it features some fantastic actors giving their views too!
One of those actors happens to be David Tennant (which is why we are telling you about this) others include Jack Davenport and Anne-Marie Duff.
The 50 Greatest TV Dramas airs on Saturday 3rd March on C4.
Site Updates!
26/02/2007, 22:34pm GMT
Recovery Screen Caps
Screen Caps of Recovery are now available in the Recovery section.
Recovery Reviews
We have added some of the best reviews that we could find for Recovery to the Recovery section. Click here to read
them
.
Recovery Viewing Figures
The over night viewing figures for Recovery are in and it fared well in an extremely tough time slot.
It pulled in 5 million viewers and got a 20 per cent audience share in its slot.
Doctor Who Nominated For RTS Award!
Doctor Who has been nominated for Best Drama Series at this year's Royal Television Society Awards.
It's a tough category as Life On Mars and The Street have also been nominated.
The award ceremony will take place in London on Tuesday 13th March.
Site Updates!
25/02/2007, 17:19pm GMT
Recovery
As you should all know by now, Recovery will be airing on BBC One tonight at 21:00pm.
If you would like information on the show please visit our Recovery section
here
.
You can learn more about the subjects covered by Recovery by visiting the Headway website
here
.
We will be having a live chat to discuss the show on our forum from 22:30pm onwards.
Sunday AM
David was a guest on Sunday AM this morning and chatted about his new role as Alan Hamilton in tonight's one off drama Recovery and he added to fans suspense for the new series of Doctor Who by telling the host, Andrew Marr, about the series finale: 'It's going to be a big one, you don't know who's going to survive'. Oooh!!
You can watch the show again via their website
here
.
Listen Again
You can listen again to this weekend's David radio interviews via the relevant show websites.
His interview with Jonathan Ross from yesterday morning can be heard
here
.
And he was on with Julian Worricker on Radio 5 this morning. That interview can be heard
here
.
Both interviews are available for the next seven days only.
There is quite a lot of Recovery / David coverage in the press today.
Click a pic to enlarge!
Photo Credit: The Daily Star
David, Freema Agyeman and John Barrowman have been out and about filming for Doctor Who in Cardiff for the last few days and today's press have the above photos of them on set.
David will be a guest on Sunday AM on Sunday morning (funnily enough!) at 09:00am on BBC1.
Don't forget that David and Sarah Parish will be chatting to Jonathan Ross on BBC Radio 2 tomorrow morning from 10:00am.
Make sure you get a copy of The Times this Saturday. There will be a feature about Recovery in the Mind, Body and Soul section and also a review of the drama.
And grab The Telegraph too as they will also be reviewing Recovery!
Keep your entries for the Who Crew coming in. We have been really very impressed with the standard of the work that has been sent in so far . Scroll down the page for full details of how to enter.
The Recovery section has been updated with new promotional photos, some new articles and some wallpapers for you to download.
Click here to enlarge the pic!
David is on the front cover of the current issue of the Radio Times (24 Feb -2 Mar).
TV's Most Wanted, David Tennant; doctors, murderers, lovers.. it proclaims!
Inside is a feature on Recovery and a piece on who they rate as the most versatile actors on TV at the moment, with both David and his Recovery co star Sarah Parish both getting a worthy mention! It's out now priced at the very reasonable 98p!
We are very pleased to be able to offer visitors to david-tennant.com a very special offer on tickets to see David's former Doctor Who co star Billie Piper in the West End play Treats. This offer is in conjuction with Bill Kenwright Productions.
David and Sarah will be on Jonathan Ross' Radio 2 show on Saturday 24th February from 10:00am.
Click a pic to enlarge!
The covers for the new Doctor and Martha books have been revealed.
Here's a quick recap on what the books have in store:
You can pre order all of the books from our shop here.
Calling all budding book worms The Official BBC Doctor Who Website needs you!!
They say:
Does your school have a reading group? Is it in the United Kingdom? If so, we're once again looking for three more groups across the country to give us their comments on the next three Doctor Who novels.
Each group chosen will receive five advance copies of one of the three new adventures - The Last Dodo, Wooden Heart and Sting of the Zygons - just as soon as we get them.
The books are released on 19 April, so we'd need comments from each school by 12 April or before your Easter school holidays start, whichever is sooner.
The Radio Times have confirmed that Recovery will air on Sunday 25th February at 21:00pm on BBC One.
The BAFTA screening of Recovery takes place tonight at the Princess Anne Theatre in London.
The date for transmission is looking very likely to be Sunday 25th February at 21:00pm.
There will be a new interview with David about his role in Recovery in the next issue of the Radio Times, which should be on sale on Tuesday 20th February.
Click the pic to enlarge!
The new issue of Doctor Who Adventures is out on Wednesday 15th February (£1.99) and it features the Doctor and Martha on the front cover.
It's almost time for Martha Jones to join the Doctor on his adventures so in this issue we find out a bit more about her.
Plus you can read all about the parallel earth, discover why an alien pig crashed into Big Ben and much more!
And if you can't wait to see Freema as Martha then head over to her fansite to see previews of her in some Series Three Video Diaries.
David is going to be a guest for Clive Anderson, who sits in for Michael Parkinson, on Sunday 25th February at 11:00am on BBC Radio 2.
Recovery almost has a transmission date! Hoorah! It has been narrowed down to being broadcast in Week 9 of the BBC schedule which means it should appear on our screens between 24th February and 2nd March 2007.
The BBC Press Office says:
David Tennant and Sarah Parish star in a powerful drama for BBC One, written by Bafta award-winning writer Tony Marchant – creator of Holding On, Crime And Punishment, Kid In The Corner and The Knight's Tale.
Alan and Tricia Hamilton are very happy. He's the head of a building firm and on top of his game, while she's a part-time beautician and a mother to their two sons.
But one day their perfect, if unremarkable, life is torn apart when a last-minute decision to pop out for a quick drink with a colleague sees Alan step out in front of a passing car.
The accident leaves him in a deep coma but with remarkably few physical injuries. Desperately worried about him, Tricia is delighted when he comes round – only to discover that the man she loved has disappeared. His behaviour has changed; he has lost all of his inhibitions and he veers from angry and frustrated to vulnerable and childlike. Simple tasks such as making toast and getting dressed are beyond him, he is unable to hold down the job he loves and he plays and laughs with his sons as if he's a child.
Alan's behaviour puts his relationship with Tricia under intolerable stress. She longs to find the husband she loves in there somewhere – but fears she may have lost him for ever.
Tony Marchant's script was partly inspired by research he undertook with the charity Headway, but also deals with the concept of identity.
Bright Young Things Terrestrial Premiere
Channel 4 will play host to the terrestrial premiere of Bright Young Things this week.
Set in the 1930s, the world of the Bright Young Things is one of nightclubs, dancing, jazz and speed. Their lives revolve around an endless series of parties and pleasure seeking: motorcars, jazz bands, gossip journalism, drugs, gramophones… Inevitably, however, the frantic pace of living takes its toll and one by one they begin to crash and burn in the search for newer and faster sensations.
David plays the role Ginger Littlejohn. It will be broadcast on Friday 16th February at 12:30am.
We would like the thoughts to represent a wide range of Doctor Who fans so we are going to split fans into groups. One fan will be chosen from each of the following categories:
It will be a weekly review so you will need to be dedicated!
To keep up to date with the new series of Doctor Who, visit our 2007 Series Section here.