30/11/2007, 15:00pm GMT
David Wins Top Screen Star Award
David has been awarded a Glenfiddich Spirit of Scotland award for his work on screen.
He was nominated alongside James McAvoy and Tilda Swinton. But he was announced the winner at a ceremony at the Kelvingrove Museum in Glasgow.
The awards ceremony will be broadcast on STV tonight.
29/11/2007, 18:04pm GMT
David Wins Scotland's Best Comedy Moment
David's Comic Relief sketch with Catherine Tate was today named Scotland's greatest comedy moment.
The charity ScotsCare ran the poll to celebrate Scottish comedy on St Andrew's Day.
The sketch, which won 62 per cent of the vote, features Doctor Who actor Tennant as a Scots school teacher teaching English to Tate's character Lauren Cooper.
Scots voting in London remained true to traditional comics, with Billy Connolly scoring highest, Rab C Nesbitt taking second place and David Tennant coming third.
More than 500 votes were cast in the search.
A shortlist was devised with the help of three Scottish comedians, Craig Hill, Miles Jupp and Janey Godley, who were present when the final vote took place.
David Tennant said: "Thank you ScotsCare, and thank you to everyone who voted.
"Obviously I'm delighted to be part of Scotland's greatest comedy moment, but the funny stuff is all down to Catherine Tate, I'm just her bitch.
"But seeing as she's an unfunny southerner I'll very gladly accept this great honour."
ScotCare's chief executive Willie Docherty said: "St Andrew's Day is the perfect time to celebrate Scottish achievements and comedy is definitely one of those.
"Scots have a tremendous sense of humour and Scottish comedians are at the forefront of British comedy."
Kylie & David Update
If you missed out on listening to the excellent X-Amining Kylie when it was broadcast on Tuesday night, you can make use of the Listen Again facility over on the Radio 2 site for the next few days
here
.
You can catch more banter between the pair on Christmas Day when Radio 1 will be broadcasting The Kylie Minogue Christmas Show see
the diary
for full schedule details.
Auction Update
David's signed The Sound Of Drums script sold for £1,550. All money raised will go to ACCORD Hospice. Find out more about ACCORD on their website
here
.
27/11/2007, 20:25pm GMT
The Wooden Overcoat
David will be starring in The Wooden Overcoat on BBC Radio 4 over Christmas. It's a play set in the 1950's and adapted by Mark Gatiss.
The BBC have released the following press release:
David Tennant and Julia Davis star in this macabre and hilarious drama set in London in 1951 and dramatised by Mark Gatiss. Benji has murdered his mistress and, much to his surprise, he has got away with it.
At a loss as to what to do after his acquittal, Benji discovers the Asterisk Club, founded by Clifford Flush. The Club is for those who have strayed beyond the pale, but not paid the ultimate price. To join, qualified prospective members must name the Club as the beneficiary of their will to enjoy its comforts and unique benefits.
However, with the Club full, Benji finds himself lodging in a rat-infested house next door with a young bohemian couple, Fan and Peter. Retired rat catcher Mr Alfred L Beesum arrives but, suddenly, Benji is found dead.
Set in the pre-chic Chelsea of rat-infested boarding houses and tattered ration books, The Wooden Overcoat stars Tom Allen as Benji, Julia Davis as Fan, David Tennant as Peter and Alan David as Mr Beesum.
The Wooden Overcoat will air on BBC Radio 4 on Saturday 22nd December at 14:30pm.
X-Amining Kylie Tonight!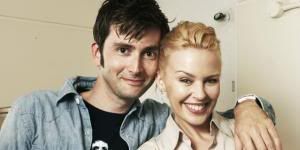 Click the pic to enlarge!
Don't forget to tune into Radio 2 tonight at 22:30pm to listen to X-Amining Kylie, an interview with the pop princess, conducted by David.
Click
here
to visit the Radio 2 site.
David On Top Gear
David will be making an appearance on Top Gear as The Star In A Reasonably Priced Car sometime in December. We'll have the full schedule details at a later date.
Doctor Who Update
Click the pic to enlarge!
The BBC have today confirmed that Billie Piper will be returning to Doctor Who.
She will star in three episodes of the sci-fi drama, reprising her role as the Doctor's companion, Rose Tyler.
Rose's return will mean the Doctor has three assistants in next year's series - Donna, played by Catherine Tate, and Freema Agyeman as Martha.
The new series begins in March and will run for 13 episodes. There will be three special editions in 2009 before the show takes a break until 2010.
A separate show based on Rose had been planned by writer and series producer Russell T Davies, but was scrapped when Davies decided the programme was "a spin-off too far".
Filming is currently under way in Cardiff for the new series of Doctor Who, which sees the Doctor meeting an old group of enemies - the Sontarans - 35 years after first encountering them.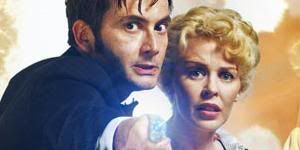 Click the pic to enlarge!
Meanwhile Voyage Of The Damned, this year's Christmas Special, has been unveiled as one of the highlights in the BBC's festive schedule.
26/11/2007, 17:05pm GMT
Extras Update
Click the pic to enlarge!
The above promotional image for the Extras Christmas Special has been released. It shows David with Clive Owen, George Michael and Ricky Gervais.
You can see a trailer for the show
here
.
And don't forget that you can listen to the whole thing on Radio 2 on Tuesday 27th November at 22:30pm.
David has kindly donated his personal copy of The Sound Of Drums Script to the david-tennant.com ACCORD fundraiser. This highly collectable item has been signed by David and his co stars. The full list of signatures is as follows:
David Tennant (The Doctor)
Freema Agyeman (Martha Jones)
John Barrowman (Captain Jack Harkness)
John Simm (Harold Saxon /The Master)
Alexandra Moen (Lucy Saxon)
Adjoa Andoh (Francine Jones)
Trevor Laird (Clive Jones)
Gugu Mbatha-Raw (Tish Jones)
You could be the proud owner of a piece of Doctor Who history AND even more fabulously you will be helping ACCORD and the fantastic work that they do! Click here to view the lot. You can learn more about ACCORD via their website here.
David Meets Cancer Experts At Cardiff University
David, in his new role as patron of the Association of International Cancer Research (AICR), has learned more about world-leading genetic research at Cardiff University. Whilst there he met one of charity's newest fellows, Dr Andrew Tee from the School of Medicine Institute of Medical Genetics.
Dr Tee was awarded £750,000 from the charity to develop his research at the Institute. The charity funds many cancer research projects worldwide and aims to support promising young scientists who are ready to form their own research teams. The research goal of Dr Tee's newly established lab at Cardiff is to uncover new drug targets for the treatment of tuberous sclerosis. "We are carrying out basic research to better understand the complex signals that are involved in the growth of tumours in this serious genetic disease," he said.
The results of previous laboratory research carried out by Dr Tee, when working as a post-doctoral fellow at Harvard, led to the initiation of a clinical trial in patients with tuberous sclerosis by researchers at the Institute. The early results look very encouraging. "One year into the trial, we are seeing a marked reduction in the size of the kidney tumours that we are treating in patients with tuberous sclerosis" said Professor Julian Sampson, head of the Institute of Medical Genetics.
The team hope that their combined expertise in genetic and cancer biology will lead to further clinical trials for previously untreatable familial tumours. Dr Tee said: "I was pleased to meet with David Tennant, our progress would not be possible if it where not for the support of independent charities such as AICR."
David said: "I know only too well that cancer strikes without regard to age or race, country or creed, fame or fortune. I believe AICR's approach to funding research, wherever in the world it is taking place, is at the forefront of the battle to bring cancer under control and I am proud to have been asked to become a patron."
The Institute of Medical Genetics is a winner in this year's Queen's Anniversary Prizes , which recognise world class levels of excellence in UK Higher Education.
To find out more about AICR visit their website here.
Overnight ratings show that the Doctor Who special scene Time Crash was the most watched program on Children In Need night.
The special enjoyed an audience of 10.9 million viewers with an audience share of 45 per cent. This compares to the average Children In Need audience of 9.4 million viewers.
An additional 2.5 million people watched a repeat of the scene just after midnight.
And you can watch Time Crash via the Official BBC Doctor Who site
David has been named Scotland's most eligible man in a poll carried out by Scotland On Sunday.
The paper lists him at No.1 in a list of 100 and says: "The 6ft 1in star is gorgeous, yet modest - describing himself as 'the least sexy man on the planet' - and refreshingly down to earth for one so famous."
Click the pic to enlarge!
Just a reminder that you can see the special Doctor Who scene, Time Crash, as part of tonight's Children In Need event on BBC One.
The show kicks off at 19:00pm and Time Crash is scheduled to air between 20:00pm and 21:00pm.
If you can't see the show tonight then the BBC Doctor Who website will have Time Crash online for the next seven days.
The full schedule for tonight is as follows:
From 7pm: CiN on BBC One
Lee Meads kicks off CiN 2007 with a nationwide singalong, the cast of Hollyoaks glam up for a Marc Bolan tribute, and The Spice Girls are live in LA.
From 8pm: The Spice Girls & Dr Who
The Spice Girls perform the official CIN single and there are surprises in store for David Tennant in a Doctor Who special scene.
From 9pm: Kylie's CiN Comeback
The cast of EastEnders perform a song and dance extravaganza, the boys from The Bill do a Rat Pack classic and Kylie Minogue performs.
From 10pm: Dirty Dancing
The cast of Dirty Dancing sashay into the studio, some iconic TV characters check in to Hotel Babylon and there's music from The Sugababes.
From 11pm: The Newsroom Hots Up
Fiona Bruce leads the BBC newsreaders as they get steamy in Chicago plus music from Annie Lennox and David Gray.

And later... Giants of the radio go head to head in a Buzzcocks special, Lee Meade performs a pop classic, Denise Van Outen pays tribute to Dusty Springfield and BBC Breakfast News presenters swing to a big band favourite.
Terry Wogan is to auction another chance to meet the Doctor, in aid of Children In Need.
Early next year, the winning bidder and three other guests will travel to a top secret location in South Wales where they will watch the filming of the next series.
They'll be accompanied throughout the day by Executive Producer and chief writer Russell T Davies, who'll let them in on some of the Doctor's closely-guarded secrets.
During the visit, the production team will give the winner an exclusive behind-the-scenes look at how the series is put together and even the chance to meet with the Time Lord himself - David Tennant - and his new companion Donna, played by Catherine Tate.
And if that wasn't enough, the winner will also spend some time with the Doctor Who sound team, helping to create monster voices, alien ship take-offs and big bangs and explosions!
The set visit auction lot includes one night's hotel accommodation, but not travel, and the winner will need to be flexible when it comes to the date of the visit.
The set visit auction takes place on Thursday, 15 November 2007 on Terry Wogan's BBC Radio 2 show.
And don't forget that you can still help Children In Need by placing a bid on the Pudsey Bear signed by David.
Click a pic to enlarge! Photo Credit: Luke Williams
A small clip of Time Crash is currently airing as part of the Children In Need night trailer.
Don't forget that you can see the whole thing as part of Children In Need on Friday 16th November.
David is one of the guest hosts featured on the new Friday Night Project DVD.
The Learners section has been updated with Screen Caps and some press reviews.
Learners was the second most watched TV show of Sunday night. It attracted 5.5 million viewers and a 22% share between 9pm and 10.20pm.
David has signed a Pudsey Bear cuddly toy to raise money for Children In Need. You can bid on it via eBay now.
David is backing a charity award for children fighting cancer to receive a special charity award for their courage.
Cancer Research UK is launching its Little Star Awards and is inviting friends and relatives to nominate young cancer patients dear to them for special recognition in the run-up to Christmas.
The Little Star accolade is given to all children under 17 who are nominated and have undergone cancer treatment in the last five years.
Unlike other children's awards, there is no judging panel because Cancer Research UK believes each and every child who confronts cancer is extra special.
Each recipient will receive a certificate signed by David, Kylie Minogue, footballer Ryan Giggs and other famous faces, a special Little Star trophy and a goody bag courtesy of Disney, HarperCollins books, Jetix children's TV and Orion Children's Books.
Cancer Research UK is the UK's largest single supporter of children's cancer research.
The charity helps fund the Children's Cancer and Leukaemia Group which organises and manages the treatment of virtually all children with cancer via a network of 21 paediatric centres throughout the UK. The CCLG is one of the world's leading childhood cancer clinical trial groups and is dedicated to improving specialist care so that new ways of treating, curing and preventing the disease can be found. Helen Johnstone, from Cancer Research UK said: "This is the fifth year that Cancer Research UK's Little Star awards have celebrated the nation's child cancer patients and survivors, recognising the unique challenges faced by young people diagnosed with cancer. "Cancer is the most common cause of death from illness in children aged between one and 14. Each year, about 1,500 children in the UK are diagnosed with the disease, that is one in every 500. However, there is some good news. Thanks to research, more than seven out of 10 children with cancer are successfully treated and over 80 per cent of children survive the most common childhood leukaemia. Our awards celebrate this success while bringing a little festive cheer into the lives of families whose children are affected by the disease."Other celebrities supporting Cancer Research UK's Little Star awards include boy band McFly and singer Lemar.
To nominate a Little Star simply email littlestar@cancer.org.uk, call 0113 231 9828 to request a nomination form, or visit the Cancer Research website click here. The awards are open to all under-17s who have cancer or have been treated for the disease in the last five years.
Learners Out On DVD
If you enjoyed David in Learners last night then you'll be pleased to know that it's now available on DVD. It was released today and you can buy it from our shop here.
Click the pic to enlarge!
Make sure you don't miss Learners tonight at 21:00pm on BBC One!
The Telegraph has an interview with David on the subject of Learners ahead of it's transmission tomorrow.
There will be a live chat on the David-Tennant.net forum after Learners airs tomorrow. It will start at 10:20pm.
Doctor Who has been nominated for the Favorite Sci-Fi Show award at the 34th annual People's Choice Awards.
The results will be announced at a ceremony on Tuesday 8th January 2008. The show will be broadcast on CBS in the USA.
More caps from the Doctor Who Series 3 box set have been uploaded.
09/11/2007, 19:40pm GMT
Region 4 Doctor Who Series 3 Box Set Release Date
The Doctor Who Series 3 Box Set is set to be released in Australia and New Zealand on Wednesday 5th December.
09/11/2007, 17:54pm GMT
Learners Update
Caps from David's on set interview and the Learners trailer have been added to give you something to tide you over until Sunday.
Plus if you'd like a real treat the BBC have uploaded a couple of clips of the show:
Diary Pics: Part 2
More caps from David's Doctor Who video diaries have been added.
08/11/2007, 15:43pm GMT
David's Doctor Tops Teacher Poll
Children across the UK have chosen David as their ideal celebrity teacher in a poll conducted by CBBC Newsround and The Children's Society.
Asked 'Which famous person would make a good teacher?', David's Doctor was the clear favourite for the No.1 spot. Over a quarter of those taking part believed he would be a great teacher for science, history and geography because of his extensive travels through time and space.
Alice (age 13) from Hampshire commented: "I think it would be amazing if David Tennant taught history. He's the Doctor; he's been around since the beginning of time! Who knows more about history than him?" ...
The top ten celebrities chosen by children across the UK to make a good teacher were:
David Tennant
JK Rowling
Billie Piper
David Beckham
Hilary Duff
Kylie Minogue
Tracey Beaker
Sir Richard Branson
The Queen
The Cast Of High School The Musical
Entertainment Today..er Tomorrow
Don't forget that Richard Arnold will be chatting to David on the set of Learners for Entertainment Today from 08:35am on ITV1 tomorrow.
07/11/2007, 16:40pm GMT
The Stage Interview
Click the pic to enlarge!
An exclusive interview with David is featured in the latest issue of The Stage.
There are two very different views of actor David Tennant on display in newsagents at the moment. He is back in his familiar time traveller's garb promoting a special Doctor Who episode for Children in Need (written by Steven Moffat, the segment will see the Tenth Doctor coming face to face with the fifth, played by a returning Peter Davison).
On the cover of this week's issue of The Stage, though, he's dressed down substantially, in the guise of a driving instructor for the new one-off BBC1 comedy drama Learners, written by and starring Jessica Hynes — who, of course, guest starred with Tennant in the superb Who episodes Human Nature and The Family of Blood.
In one of his only print interviews, Tennant talks about his forthcoming stage turns as Hamlet and Berowne in Love's Labours Lost for the RSC, his future in Doctor Who — and why he considers himself "the least sexy man on the planet".
Of his forthcoming theatrical ventures, Tennant says:
"It doesn't feel right somehow to know that I'll be doing a matinee of Hamlet on some afternoon in 18 months' time," he ruefully admits. "It's lovely, but it's also absurd. Seeing the dates printed in black and white in the RSC schedule makes me feel terrified a whole year in advance. It's fear on a daily basis."
And of course, there's one role for which Tennant is known and respected — a certain time travelling Doctor…
"You could find yourself in the present or hundreds of years in the past – or five billion years in the future. And the standard of the writing and of the stories is extremely high. I might tweak the odd line here or there, but I'd never dream of pointing out to the writers, in that hackneyed phrase, that my character wouldn't say this or do that. Russell [T Davies] is the best, so why play around with the best?"
But being so well-kndown does have its downsides: Tennant admits that he always thought fame would bring with it great self-confidence, but the opposite turns out to be true:
"Before I became known and I was in the company of somebody who was famous, I always imagined that it gives you great self-confidence. But I've discovered that the opposite is true. It does make you self-conscious and it can be a bit frightening at times. But I'm not complaining. I'm not an idiot. I knew what I was taking on."
For the full interview, buy the November 8 issue of The Stage, priced £1.30 and available from most high street newsagents.
Click a pic to enlarge!
The Learners section has been updated with lots of new articles about the show.
Click the pic to enlarge!
The new issue of Radio Times, out today, is on hand to chronicle the meeting between David Tennant and Peter Davison on the set of the Doctor Who Children In Need Special. They also go behind the scenes of the fundraiser and tell us what highlights we have to look forward to!
David made a surprise cameo appearance in a special one off performance of The Fast Show live at the Dominion Theatre on Sunday night.
He found himself hemmed in on either side by Ken and Kenneth, the prim but far from proper tailors as they quizzed him about Billie Piper and Doctor Who in their unique manner.
Pics from part 1 of David's Doctor Who diary have now been added.
Doctor Who mania swept Oxford Street this afternoon as 300 lucky fans got the chance to meet David and Freema at the HMV Doctor Who DVD Signing!
Click a pic to enlarge!
BBC News and Newsround were even there to cover the event!!
Check back later for more updates...
Click on the pic to enlarge!
The Complete Doctor Who Series 3 box set is released in the UK and Ireland today.
As well as all the fantastic episodes from the last series it is packed with over 6 hours of extras!
Music and Monsters
David Tennant's Video Diaries
Freema Agyeman's Tour Of The Studios
Deleted Scenes
Outtakes
Audio Commentry
Doctor Who Confidential
The Infinite Quest is also released on DVD with interviews and more!
As you know David and Freema will be at HMV in Oxford Street, London, signing copies of the Doctor Who Box Set this afternoon.
If you're going along to meet them, please send us your pics!
You can email them to us at :
A search for Scotland's greatest comedy moment has been launched.
Charity ScotsCare, which supports Scots living in London, is running the competition, and the winner will be announced to celebrate St Andrew's Day.
Others on the shortlist include Billy Connolly's routine on Glasgow drunks; Billy Connolly's routine on singing at a Glasgow party; Rikki Fulton as Reverend IM Jolly; Rab C Nesbitt's conversations with Mary Doll; Francie and Josie's "Had A Curry" sketch from their final performance.
Mr Hill added two other moments that nearly made it onto the list were the first time he heard Mel Gibson's Scottish accent in Braveheart; and the initial budget estimate for the Scottish Parliament of £40 million.
ScotsCare chief executive Willie Docherty said: "Scots are known for their tremendous sense of humour. What better way to celebrate St Andrew's Day than celebrating Scottish comedy and having a laugh at the same time?"
The final vote will take place at a comedy evening at London's Caledonian Club on Wednesday, November 28.
The Doctor and Martha Jones are to be reunited in an explosive new adventure, which hits our screens next year on BBC One.
Martha comes face to face with Donna Noble for the first time as they unite against the Sontarans, one of The Doctor's oldest enemies.
"I am delighted to be back filming on Doctor Who with David and Catherine," said Freema. "Martha Jones returns in a fantastic storyline and the fans will get to see her in a whole new light!"
The Sontarans first appeared on Doctor Who in 1973 when they met Jon Pertwee's Doctor. Former Young Ones star Christopher Ryan guest stars as the Head of the Sontarans.
Other guest stars in the new series include Felicity Kendal, Sarah Lancashire, Fenella Woolgar, Tim McInnerny, Peter Capaldi, Phil Davis and Tracey Childs.
Don't forget that Learners will be on BBC One on Sunday 11th November at 21:00pm and you can buy it on DVD from Monday 12th November.
There will be an interview with David in the new issue of The Stage. It will be hitting the shops on Thursday 8th November.
There was a short interview with David at the NTAs on Steve Wright's BBC Radio 2 show on Thursday afternoon.
It is around 2 hours into the show.
Click pic to enlarge!
Many, many congrats to David who won the Most Popular Actor award for the second year running at last night's National Television Awards in London.
And huge congratulations to the Doctor Who team who managed to beat off stiff competition to walk away with the Most Popular Drama award again, having previously won it the two years before.
David and Freema collected the award for the show and thanked the fabulous team behind it as well as the fans who had voted:
"If there was time, Freema and I would kiss every individual in the audience. Unfortunately there just isn't. Thank you for watching it; thank you for enjoying it. I'm having the time of my life and I'm so glad you're enjoying it."
David, who arrived with co-star Freema Agyeman, thanked his "lucky pants", joking: "I've always got my lucky pants on except when I haven't got any pants on at all — and that's unlucky."
He went on: "I spend my time filming a Christmas special with Kylie Minogue, then I come to a fabulous awards ceremony and then go and film more scenes with Kylie. It doesn't get much better than this!"
Some fan photos have also been added.