31/12/2007, 15:43pm GMT
David Attends Billie Piper's Wedding
David was in the congregation as his Doctor Who co star Billie Piper and her new husband Laurence Fox married this afternoon in East Sussex.
Many congratulations to Billie and Laurence!
31/12/2007, 12:37pm GMT
Extras Update
If you happened to miss David's appearance on Extras then you can catch the whole episode again courtesy of the new BBC iplayer
here
. There are currently 4 days left to view it.
27/12/2007, 18:09pm GMT
Top Gear Update
Last Sunday saw David take to the race track as the Star In The Reasonably Priced Car on Top Gear.
He did well, finishing the course in an impressive 1.48.8, it wasn't quite as good as Billie Piper's efforts but he did fare better than Dame Helen Mirren!
The show will be repeated at 19:20pm on BBC Three on Saturday 29th December.
Full Result Table:
| | |
| --- | --- |
| Simon Cowell | 1.45.9 |
| Jennifer Saunders | 1.46.1 |
| Gordon Ramsay | 1.46.38 |
| Trevor Eve | 1.47.09 |
| Lawrence Dellaglio | 1.47.4 |
| Les Ferdinand | 1.47.41 |
| Jamie Oliver | 1.47.68 (wet) |
| Hugh Grant | 1.47.7 |
| Well spoken man (James Hewitt) | 1.47.69 |
| Ewan McGregor | 1.48.0 |
| Billie Piper | 1.48.3 |
| James Blunt | 1.48.4 (wet) |
| Justin Hawkins | 1.48.44 |
| Simon Pegg | 1.48.5 |
| David Tennant | 1.48.8 |
| Ronnie Wood | 1.49.5 |
| Jools Holland | 1.49.9 |
| Sir Michael Gambon | 1.50.3 |
| Alan Davies | 1.50.3 |
| Steve Coogan | 1.50.9 (hot) |
| Ray Winstone | 1.51.4 (hot) |
| Keith Allen | 1.51.7 (wet) |
| Dame Helen Mirren | 1.52.8 |
| Kristin Scott Thomas | 1.54.0 |
| Philip Glenister | 1.54.3 (wet) |
| Rick Wakeman | 1.55.26 |
| Brian Cox | 2.01.0 |
| Jimmy Carr | 2.08.91 |
26/12/2007, 16:18pm GMT
Voyage Of The Damned Update
Unofficial overnight ratings reveal that the 2007 Doctor Who Christmas special Voyage of the Damned was watched by an impressive 12.2 million viewers, winning a 50% share of the total television audience. This marks the highest ratings for Doctor Who since it returned in 2005, and its best viewing figures since 1979.
The programme was also the second most watched of Christmas Day, after the 8pm edition of EastEnders.
At its peak, Voyage Of The Damned was watched by 13.8 million viewers, with its share increasing to around 55% of the audience.
The previous highest rated episode of the new series was Rose, which managed 10.8 million viewers. The final figures for Voyage Of The Damned will be adjusted upwards within two weeks to take into accound time-shifted recordings etc. This may affect its chart position.
Voyage Of The Damned also became the very first BBC show to be streamed from its official website using the the iPlayer technology, so if you somehow missed it (or simply want to watch it again and again),
click here
.
To find out more about Voyage Of The Damned and to get your hands on some goodies visit our episode guide here.
Voyage Of The Damned Big Screen Events
Several city centres will be showing Voyage Of The Damned on their BBC Big Screens tomorrow (27th December) to promotoe the new BBC iplayer download service.
You can catch all the action between 10:00am and 16:00pm at the following locations:
Bradford (Centenary Square)
Derby (Market Place)
Hull (Queen Victoria Square)
Leeds (Millennium Square)
Liverpool (Clayton Square)
Manchester (Exchange Square)
Rotherham (All Saints Square)
Series Four Preview
It's as long awaited as the actual Christmas Special itself, yes we've had our first glimpse of the excitement to come in last night's Series Four preview clip!
If you missed any of the action or simply want to watch it again on a reel until Spring 2008 then
click here
!
20/12/2007, 11:05am GMT
Headway Appeal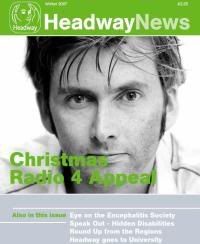 Click the pic to enlarge!
As you know David has recorded a Radio 4 appeal on behalf of the brain injury charity Headway.
The Radio 4 Appeal is a weekly programme that gives charities the chance to highlight their causes and appeal for donations to help them continue their good work. In 2006, the weekly Radio 4 Appeals raised more than £500,000, which was shared among the 50 featured charities. Many of these went on to receive additional funding from legacies through the opportunity to get their message across to a huge audience of potential supporters.
Headway UK has been working with Radio 4 for the past 18 months to get an appeal slot, securing the date of 23 December earlier this year. Following his moving portrayal of a man who suffered a brain injury after being hit by a van in the BBC television drama Recovery, David Tennant kindly agreed to narrate the appeal.
David tells that latest issue of Headway News, available to download from www.headway.org.uk :
"I am absolutely delighted to be able to help Headway raise the profile of brain injury," said David, who is a patron of Headway Essex. "While researching my role in Recovery, I spent time at Headway Essex where I observed some of the group sessions as well as chatting to some of the members. It was a truly humbling experience. There was so much hope, humour and positivity, mixed with occasional anger and sadness.
"It was a very powerful experience, seeing first-hand the effects brain injuries can have on people. It made me realise just how lucky I am and brings fresh meaning to the phrase 'there but for the grace of God go I'. Headway is a wonderful organisation and one I am only too happy to help. I hope the appeal is very successful."
Headway's Radio 4 Appeal can be heard on Sunday 23 December at 7.55am and again at 9.26pm and on Thursday 27th December at 3.27pm.
Visit the Headway UK site

here

you can read about all the great work that they do and make a donation online.
Voyage Of The Damned BBC Press Release
Doctor Who: The Doctor and Astrid get up close and personal
The Doctor gets up close and personal with his Christmas companion, Astrid Peth, in the long-awaited Doctor Who Christmas special, Voyage Of The Damned, on BBC One.
The Doctor, played by David Tennant, wastes no time in getting acquainted with Kylie Minogue's Astrid in the drama which goes out at 6.50pm on Christmas Day.
Kylie will star as Astrid, a waitress on The Titanic, alongside David Tennant in a story that follows on directly from the ending of series three where viewers witnessed The Titanic crash through the Tardis walls...
The episode has been written by Doctor Who's Executive Producer and head writer Russell T Davies.
Kylie Minogue comments: "It is an incredible thrill to be joining David and the entire Doctor Who production for this year's Christmas special.
"Doctor Who enjoys a unique history and it is going to be very exciting to be a part of that."
Voyage Of The Damned launched on Tuesday night with a celebrity-packed gala premiere at the Science Museum in London.
Celebrity fans in attendance included Jo Whiley, John Simm, Tamsin Greig, Nick Cave and Richard Curtis.
In the Christmas Doctor Who two of Britain's best-loved actors, Geoffrey Palmer and Clive Swift, will also play lead roles.
Geoffrey Palmer, perhaps most famous for his role in the BBC comedies Butterflies and As Time Goes By, will play the Captain of the Titanic.
Voyage Of The Damned will also feature Coronation Street star, Debbie Chazen, who also starred in BBC Three comedy series The Smoking Room; Olivier Award-winner Clive Rowe; Russell Tovey from the smash hit film The History Boys; Jimmy Vee, who has previously been in Doctor Who as the Moxx of Balhoon; and George Costigan who starred in BBC drama The Long Firm and the acclaimed film Rita Sue And Bob Too.
The Producer is Phil Collinson; Executive Producers are Head of Drama Wales and Drama Commissioning Julie Gardner and Russell T Davies.
Doctor Who: Voyage Of The Damned, BBC One, Christmas Day, Tuesday 25 December 2007, 6.50pm
Press Association Video
The Press Association have released a video from the Press Launch, it includes some new clips from Voyage Of The Damned, click here to view it.
19/12/2007, 11:23am GMT
Voyage Of The Damned Press Launch
Last night the press gathered at the Science Museum in London to catch the first showing of this year's Doctor Who Christmas Special, Voyage Of The Damned.
David was there and spoke to BBC News and ITN about filming the special and the constant rumours of him quitting his much loved role as the Doctor.
Catherine Tate sparked fresh rumours at the weekend when she said in a radio interview that she thought the next series would be David's last.
But David says: "Catherine Tate stitched me up good and proper. I started getting all these phone calls on Saturday lunchtime saying apparently you're leaving Doctor Who,Catherine Tate's just announced it on Radio 2 - thanks Catherine!"
He added: "I said to her on Monday morning did you know you've caused a minor diplomatic incident? She was completely oblivious that the phone had been ringing off the hook."
David confirmed he was doing four Doctor Who specials in 2009, but there was no decision about the next series in 2010.
"I'm doing four more specials and beyond that no one's asked me to make any decisions and I'm quite happy to be enigmatic for as long as possible," he said.
David was also more than happy to chat about getting the chance to lock lips with his gorgeous new co star Kylie Minogue!
He grinned: "If you had Kylie on the show, would you have her kiss the Doctor?" But he laughed off suggestions that he deliberately fluffed scenes so he could have repeated takes to perfect his Kylie kiss.
He said: "I am very professional in all things - I just go and the director tells me to stop. There were a lot of things wrong that day - it was nothing to do with me."
You can watch David's interview with the BBC via the BBC News website
here
or you can watch him chatting to ITN
here
.
The Richard Bacon talk show on BBC Radio 5 Live also has a report from the Voyage of the Damned press launch. It includes another interview with David who says of rumours of him quitting the show: "It's a decision I've not been forced to make, so I'm just going to play my cards close to my chest as long as I can. Despite what Catherine might have you believe, I haven't made any decision about the next series yet."
Click here
to listen and select the listen again for Tuesday night's show.
There will be further updates on this story throughout the day.
The BBC have released some great promotional photos of David and The Stig on Top Gear.
You can see how David fares as Star In A Reasonably Priced Car on Sunday 23rd December at 20:00pm on BBC Two.
Voyage Of The Damned will have it's premiere at the Science Museum in London tomorrow. It will be the press' first glimpse at the Doctor Who Christmas Special.
David's TV and Radio appearance schedule has been updated with even more shows for you.
Firstly there will be a repeat of David's episode of Who Do You Think You Are? on Christmas Eve morning.
Then you may catch a glimpse of him during Jool's Annual Hootenanny on New Year's Eve.
David was spotted rocking along to his favourite band, the Kaiser Chiefs at the recording of the show. He and co star John Simm and the TARDIS will be joining guests including Kylie count us into the New Year.
Fans in the US can see David in the Extras Christmas Special on HBO tonight at 21:00pm.
The latest issue of Doctor Who magazine (#390) reveals the titles of some of the Series Four episodes.
The first episode will be called 'Partners In Crime' and will see the Doctor and Donna meeting up with Agatha Christie.
The fourth episode will be called 'The Sontaran Stratagem' and will feature the Doctor, Donna and Martha.
Episode two has already been confirmed as 'Planet Of The Ood'.
The Voyage Of The Damned section has been updated with lots of new promotional photos as well as some Voyage Of The Damned wallpapers and some David and Kylie wallpapers. Plus the latest Radio Times article has just been added!
Click a pic to enlarge!
The BBC have released the above promotional photos for the Extras Christmas Special.
Click a pic to enlarge!
Click a pic to enlarge!
David has been awarded the Best Acting Performance prize in this year's Heat magazine reader's survey.
Click a pic to enlarge!
David and Kylie are featured in very nearly every single TV magazine that's on the shelves at the moment, even gracing the cover of a couple.
The BBC have released more promotional photos from the episode which can also be viewed in the Voyage Of The Damned section.
Doctor Who has been nominated for best TV Drama at the 12th annual South Bank Show Awards held in January next year.
The Doctor will be going up against stiff competition in the form of two Channel 4 dramas, The Mark of Cain and Boy A. Doctor Who was previously nominated for the award in 2005, but lost to another Channel 4 drama about Elizabeth I.
The ceremony is the only one in the world to honour artists and performers from across the arts, with the 33 nominees spanning film, TV, music, theatre, literature, opera, dance and the visual arts.
"It's an extraordinary roll call in achievement across the spectrum in the arts," said host Melvyn Bragg of this year's nominations. "Whatever else is happening, the arts in this country are still at full throttle."
The awards take place at London's Dorchester Hotel on 29 January 2008.
As you may be aware TV broadcasts start switching over to the digital signal from 2008. If you find it all a tad confusing then who better to guide you through the finer points of all things digital then David.
Click a pic to enlarge!
Don't forget you can see Voyage Of The Damned on Christmas Day at 18:50pm on BBC One.
It will be followed by Doctor Who Confidential: Kylie Special over on BBC Three.
Recovery, starring David and Sarah Parish, has made it into the TV Scoop Television Top 50 of 2007 at a very respectable No. 26. They say:
Occasionally, just occasionally, things slip under the TV Scoop net, and Recovery was one of them. But never fear, I *did* watch it, and it was superb - but then with Sarah Parish and David Tennant involved, that's hardly a great surprise. Tennant played Alan, a happy, healthy family man who essentially turned into someone else the day he stepped out in front a car. It was heartbreaking to watch his family trying to love and look after a man who's brain injury means he has changed so much. And yet it was funny too, and ultimately heart-warming as little, familiar glimpses of Alan came shining through.
The legendary Doctor Who is back, with the first-ever stories created exclusively for the US market. The Doctor is the last of the Time Lords, survivors of a Great Time War and, along with his loyal friend and companion Martha Jones from London, they stop oppression, darkness and evil spreading throughout the galaxies. They're also on the hunt for the best chocolate milkshakes in the cosmos… and while they track that down, someone else has the Doctor in their sights. As the very last Time Lord out there, he's highly collectable, to the right people… this debut miniseries comes to you courtesy of Doctor Who TV show story editor Gary Russell and artist Nick Roche (The Transformers). Roche and variant artist Joe Corroney provide covers for each issue.
Click a pic to enlarge!
With BBC One's Christmas Day schedule just announced, we can confirm that you need to be in front of your telly and tuned in to BBC One at 6.50pm if you don't want to miss a second of Voyage of the Damned.
And there are quite a few seconds too. This year, the Doctor Who Christmas Special will run for a whopping 71 minutes instead of the usual 60.
If that wasn't enough, there will also be a brand new one hour Doctor Who Confidential at 8.30pm on BBC Three. With a whole host of bonus material launching on the BBC website at around 8pm too, that's quite an evening of Doctor Who entertainment.
Voyage Of Damned is also repeated at 01.15am on 27 December (signed version) and again at 2.15pm on New Year's Day.
There's a lot of David on TV and Radio this Christmas, here's your quick guide of what to look out for:
The Voyage Of The Damned section has been updated with lots of bits, including the new BBC One Christmas Preview Trailer, caps of which can be seen above.
Click the pic to enlarge!
David is featured on the front cover of the Radio Times again this week (surely a record number of covers!) with the gorgeous Kylie Minogue.
David will be making a radio appeal on behalf of Headway, the brain injury association charity, of which he is a patron.
It's will be airing on 23rd December at 07:55am & 21:26pm and again on 27th December at 15:27pm on BBC Radio 4.
There is an article with David featured in the latest issue of Ubizy. If you live in Cardiff you will be able to pick up the mag, free of charge, from many pubs, clubs, hotels, restaurants etc