31/01/2008, 15:53pm GMT
David On The Christian O'Connell Show
David phoned in to The Christian O'Connell show, for a quick chat about the home comforts of the TARDIS, this morning. You can use the show's listen again feature if you missed it
here.
Hello! Vote
David has been nominated for the Most Attractive Male Of The Month again over on the Hello! website. You can vote for him
here.
Doctor Who Adventues #49
Click the pic to enlarge!
In this week's issue of Doctor Who Adventures, out Thursday 31 January, there's a fantastic new competition to create a monster for our comic strip. The winner will appear with their creation in an exclusive comic strip in a future issue of the magazine.
Moray Laing, Editor of Doctor Who Adventures, says:
"We can't wait to see loads of new monsters! From the letters and drawings we get, we know how much Doctor Who Adventures readers enjoy drawing pictures of the many creatures that appear in the series.
"But with this great new comp, readers get the chance to create their very own – plus the winner will appear in an exclusive comic strip story along with their yucky monster!
"The Doctor Who Adventures team is prepared to be scared – so get drawing and no monster is too big or too small!"
ALSO:
News! We reveal the winner of our life-size Dalek comp and there's news of classic Doctor Who repeats on UKTV Drama.
Fact file The Fifth Doctor. Discover some of his traits, get the lowdown about his time as the Doctor and find out how he appeared in Time Crash.
Tales from the TARDIS Debbie Chazen (also known as Foon van Hoff) tells us her favourite scene from Voyage of the Damned.
This week's activity Learn how to stomp like a Judoon and make your own special Judoon scanner!
Who's where? Monsters have invaded the TARDIS! Oh no!
Comic strip Part 2 of Hot Metal, where the Doctor is trapped inside a newspaper…
Secrets How the Doctor jumped through a mirror on a horse.
Quiz Can you beat the Master in his Slitheen quiz?
Doctor's Data The Futurekind.
Time Agent Upload Featuring reader drawings and photographs.
Exclusive posters! Martha and the Scarecrows, the Fifth and Tenth Doctor, and Morvin and Foon.
Win More cool prizes!
Who knows? Your Doctor Who questions answered
Puzzles! Fun with Bloodtide and Doomfinger.
Doctor Who Adventures issue 49, priced £2.10, is out on Thursday 31 January. It comes with a free monster pencil and eraser set – featuring two of the scariest monsters in Doctor Who – the Daleks and the Weeping Angels. Scares guaranteed!
SFX Dalek Competition
Click the pic to enlarge!
Future's best-selling sci-fi and fantasy magazine SFX is offering readers an exclusive opportunity to win a full-scale Dalek, in a two-part competition that will test even the most dedicated of Doctor Who fans.
One lucky reader will win the once in a lifetime prize of a life-size Dalek, modelled on Dalek Sec from the new series of Dr Who and hand-built using measurements from the BBC originals by This Planet Earth, the only company licensed by the BBC to produce full-sized replica Daleks.
Spanning two issues, with the first part appearing in issue 167, on sale Wednesday 13th February, the SFX challenge will separate the Dalek experts from the casual Dr Who fans with a series of exhaustive questions covering the classic TV show's 40 year history.
Once readers have answered the final series of questions, appearing in issue 168 of SFX, on sale Wednesday 12th March, a special grid provided in each issue will reveal the anagram of a phrase relevant to the Daleks. Readers must then unlock this hidden phrase to be in with a chance of winning the competition and taking home the exclusive Dalek prize.
Dave Bradley, Editor of SFX said:
"This is a wonderful opportunity for a reader to walk away with the ultimate Doctor Who status symbol. What fan of the series wouldn't want a life-size black Dalek for their home? But they'll have to prove that they deserve it with our two-part quiz. We know that our readers love Doctor Who, it's the best British sci-fi show on TV, and it's great to be able to offer them something unique in the pages of SFX magazine. We're really pleased to be working with the team at This Planet Earth who has been building authorised replicas for ten years."
The March 2008 issue of SFX goes on sale Wednesday 13th February with a cover price of £3.99. The April 2008 issue of SFX goes on sale Wednesday 12th March.
29/01/2008, 16:49pm GMT
Double Income No Kids Yet
BBC 7 will begin broadcasting the third series of David's popular radio comedy, Double Income No Kids Yet, on Thursday 7th February 2008 at 8:30am.
There will be repeats of the episode at 22:00pm and 01:30am and as usual the episode can be listened to via
BBC 7's website
.
26/01/2008, 16:03pm GMT
Radio Times Covers Party

Click the pic to enlarge!
David attended the Radio Times Covers Party at the Claridges Hotel in London on Tuesday night. There will be coverage of the event in the new issue of Radio Times.
Doctor Who Adventues #48
Click the pic to enlarge!
There's a scary new Sontaran from Series Four of Doctor Who staring out from the latest cover of Doctor Who Adventures.

Inside this week's magazine you can find out more secrets from the exciting new series.
It's a great year to be a Doctor Who fan… and we tell you just why! There's everything from the return of Donna to a trip to Pompeii to look forward to as well as Doctor Who Adventures every Thursday, of course. Find out more in the issue.

PLUS:
- News! Series Four treats.
- Tales from the TARDIS The Doctor battles with the sinister Sycorax.
- Fact file Meet the Catkind from New Earth.
- This week's activity Make a Max Capricorn mask.
- Who's where? There's something very wrong going on aboard the Titanic – can you find the Host haloes?
- How to… walk like a seriously scary Scarecrow.
- Comic strip Part 1 of a new adventure called Hot Metal.
- Doctor's Data Mickey Smith.
- Time Agent Upload Featuring reader's fantastic drawings and photographs!
- Exclusive posters! Daleks! Carrionites! The Host, Doctor and Astrid! The Lazarus Experiment – great pictures for your bedroom wall.
- Win Cool prizes could be yours!
- Puzzles! More fun with Bloodtide and Doomfinger's woven word search and parallel pictures.

The issue comes with a brilliant free 4 in a Row game – with the Weeping Angels and Scarecrows. It's packed with essential monster data – so don't miss it!
Doctor Who Adventures is out now!
18/01/2008, 14:46pm GMT
Thank You Message From David
David has very kindly sent everyone who participated in the Christmas Book the following thank you message:
Dear all,
Happy new year to everyone, and thank you all so much for all your incredible Christmas wishes. I was once again bowled over by your kindness and generosity.
2007 wasn't an easy year as you are probably aware and all that everyone did at david-tennant.com for the ACCORD hospice will always mean a great deal to my family and me.
So to then receive a book groaning with so much kindness and goodwill at Christmas was amazing. Thank you to everyone who contributed. I hope 2008 is a healthy and happy year for all of you and your families. You're all lovely.
Lots of love
dt x
Michael's Marathon
Please support Michael Curran who is hoping to raise £1000 for the ACCORD hospice by running the London Marathon! You can sponsor Michael via his JustGiving website page
here
.
Doctor Who Adventues #47
Click the pic to enlarge!
Stand by for more adventures in time and space! From the next issue of Doctor Who Adventures, readers can get a new monster-packed issue of the successful children's magazine every Thursday!

In the first weekly issue, it's battle stations as we take a look at the legendary Dalek and Cybermen fight from the end of the second series.

There are also ten ways for you to act just like the Doctor and a fact file about the brave Titanic waitress Astrid Peth.

PLUS:
News! Find out why there's a police box in a future episode of EastEnders.
This week's activity Move like a Cyberman and make a Cyber chest plate.
Quiz Which Doctor are you like?
Comic strip Part two of The Monster Upstairs – an alien has kidnapped Violet Hopley.
Secrets Meet the man behind the bangs in Doctor Who – Danny Hargreaves.
Doctor's Data Are you brave enough to read about the Empty Child?
Time Agent Upload Is your letter or picture in this issue? Find out inside! Plus pictures of readers dressed as the Doctor and his friends.
Exclusive posters! A stunning Cyberman and Dalek poster, K-9, and the Doctor and Mr Copper.
Game Trouble on the Titanic – can you escape the Host and reach Deck 31?
Win – Cool prizes up for grabs
Puzzles! Look out for Host on toast and Max has got his tracks in a twist. And more from Bloodtide and Doomfinger with their Woven Wordsearch!

Doctor Who Adventures issue 47 comes with a Family of Blood notepad, pen, pencil, eraser and stickers. Miss it and miss out!
DWA #47 is out now!
Doctor Who Up Close At Earls Court
The Doctor Who Up Close Exhibition will be opening at Earls Court, London, on 20th March 2008.
The exhibition will be situated in the Museum Halls, beneath the Earls Court Halls.
It will be the largest ever Doctor Who display in the UK. Visitors will be able to get up close to props, costumes, monsters and creatures from all the latest episodes of the hit BBC TV show, including the Christmas special and forthcoming eagerly-awaited fourth series. On display will be the famous TARDIS, K9, Daleks, Cybermen, many of the Doctor's other enemies and much much more – dare you visit?
13/01/2008, 16:50pm GMT
Who Do You Think You Are? Magazine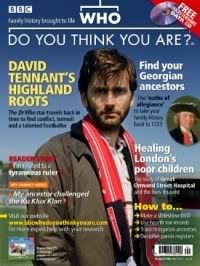 Click pic to enlarge!
David is featured on the cover of the new issue of the BBC Who Do You Think You Are? magazine. There is an article inside about how he traced his family tree back to Northern Ireland.
The magazine goes on sale on Tuesday 15th January 2008.
Click here
to find out more about David's appearance on Who Do You Think You Are?
10/01/2008, 16:24pm GMT
DWM #391 Details
Click the pic to enlarge!
Voyage of the Damned's director James Strong, shares extracts from his personal production diary, while DWM eavesdrops at the episode's Tone Meeting:

"It mustn't look like an Earth forklift," points out showrunner Russell T Davies, as the team discusses the climactic sequence where Kylie Minogue herself dispatches villain Max Capricorn. "We'll do a makeover!" suggests production designer Edward Thomas. "Pimp my truck!" laughs Russell.
But when Ed adds that you need a licence to drive said forklift, producer Phil Collinson buries his head in his hands. Yes, he's crying.
"I'm just mesmerised by the the idea of us teaching Kylie Minogue how to drive a forklift truck!" admits executive producer Julie Gardner.
"Can we check to see whether she has a forklift licence already?" requests Russell, optimistically. "Oh this is insane!"

Also in the 12 pages of coverage of Voyage of the Damned, there are interviews with actors Geoffrey Palmer, Russell Tovey, Jimmy Vee, Clive Rowe and Debbie Chazen; dozens of new and unseen photos from the making of the Special; and a detailed set report, including an unexpected visit from Sixth Doctor actor Colin Baker.

Meanwhile, there's an extensive tribute to Doctor Who's first producer Verity Lambert; David Tennant answers more readers' questions in part two of an interview; Russell T Davies tells DWM about forthcoming changes to the production team of Doctor Who; the Doctor and Martha encounter gothic horrors in Part One of a new comic strip, Universal Monsters; Planet of the Ood writer Keith Temple discusses Donna's first visit to an alien world; DWM visits the set for Torchwood Series Two and catches up with the programme's stars to ask what next for the Underground Adventurers.

Also in DWM 391, the Time Team witness the Attack of the Cybermen; Neil Harris confesses to a very private hobby in You Are Not Alone; and discover the man behind Mr Copper, in an eye-opening interview with actor Clive Swift!

DWM 391 is on sale from 10 January 2008.
07/01/2008, 15:59pm GMT
Hello Magazine Poll
David has been nominated as the Most Attractive Man of 2007 in a poll conducted by Hello Magazine.
You can vote for him online now by clicking
here
.
David Backs St Andrews Based Cancer Charity
David has taken time out from his Doctor Who schedule to film a promotional video for leading St Andrews-based cancer charity, AICR (Association for International Cancer Research). David is already a patron for the charity and it is hoped his appearance in the video will help them raise some more funds for their amazing work.
Whilst filming the video David met with a young doctor whose pioneering work is being funded by the AICR.
Dr Andy Tee, who comes from Dundee, has been awarded £750,000 by the charity to continue his ground-breaking work into the study of tuberous sclerosis complex (TSC), a condition which affects one in 7000 births, and in which tumours (mostly benign) form in the brain, lungs, kidneys, hearts and eyes of babies and young children.
Dr Tee is a self confessed Dr Who fanatic and was delighted to meet the star of the popular show.
"David was keen to hear about my work and why the funding grant from AICR is so important in allowing me to continue my research," he said.
After being photographed together, David commented: "It was good for me to meet a real life superhero whose work holds the prospect of helping many thousands in their fight with cancer".
AICR's Chief Executive, Norman Barrett, thanked David for giving up his time to appear in the video.
He added: "His help and support will help bring the important work of AICR to a wider audience.
''We are proud to support some of the world's greatest cancer experts, but we are also committed to helping young scientists at the start of their career.
''We are also delighted to have awarded Dr Tee an AICR research fellowship. We pride ourselves that we champion the brightest and best".
AICR (Association for International Cancer Research) is a totally independent charity which has no commercial ties, no links with any particular research institutions and no commitment to follow any particular line of research. It funds what it considers to be the best researchers and the most valuable studies, wherever they are in the world."
To find out more about AICR and the work that they do visit their website here.

03/01/2008, 16:22pm GMT
Doctor Who Adventures #46
Click pic to enlarge!
In the very first Doctor Who Adventures of 2008, we review our favourite bits of the Christmas special Voyage of the Damned.

With its highest ratings since Doctor Who returned in 2005, Voyage of the Damned proved a massive success. At its peak, 13.8 million viewers tuned in to watch the Doctor battle his way around the Titanic and save Earth from destruction with Kylie Minogue as Astrid Peth by his side.

The Doctor Who Adventures inbox has already been flooded with emails from readers saying how much they loved it:

"I thought it was awesome!" Alex Tierney, aged 8.
"I would give it 20/20!" Faiaz Alam Aninda
"It was just brilliant!" Conner Bradshaw
"The Hosts were extremely scary!" Matthew Hill, aged 9.

To celebrate, issue 46 has a fantastic fact file on the terror of the Titanic, Max Capricorn, a huge Voyage of the Damned poster and a brilliant Bannakaffalatta mask for readers to make.

This issue also contains exciting news on Billie Piper's imminent return as the Doctor's companion Rose Tyler.

PLUS:
- News! DWA is about to go weekly. Stand by for even more adventures!
- Tales from the TARDIS The Master blows up Martha's flat and kidnaps her family.
- Cyber puzzle Oh no! Cybermen have invaded our issue. Help!
- Why we love the Daleks! Five reasons they're the best Doctor Who monster ever!
- Comic strip Part one of The Monster Upstairs.
- Secrets Find out about the killer Christmas trees with Doctor Who Confidential.
- Doctor's Data Top Toclafane facts.
- Time Agent Upload Readers' fantastic drawings and photos.
- Exclusive posters! Donna and the Doctor, the Weeping Angels and the TARDIS, and Voyage of the Damned.
- Win – loads of fabulous Doctor Who goodies!
- Puzzles! Doctor Who time teasers and the Woven Word Search!

Doctor Who Adventures contains a brilliant free Dalek yo-yo and metallic sticker set for every reader.
Doctor Who Adventures #46 is on sale now!