A BBC spokesman said, 'Billie has great talent, she really loved filming the last series and was desperate to carry on. She was as shocked as the next person when she saw reports that she had quit.'
News of her departure caused panic among fans on Monday when Sci-fi mag Dreamwatch said that she would only be appearing three episodes of series two. But the News Of The World says it can confirm that Billie will stay for the whole series, which starts filming in Wales in July.
Just to let you know that I contacted the BBC about the possible air dates of Dixon Of Dock Green and they said that there is a series of six episodes, all of which have been recorded, and that they are aiming for a mid June airing. David will be playing the part of PC Andy Crawford. We will let you know the exact dates as soon as we get them.
Thanks to everyone who has been e-mailing in with bits for the site and to say that you like it, it's all very much appreciated!
There's a big interview with David in the latest issue of SFX. It's all about his new role as Doctor Who, we will try and get it up on the site a.s.a.p.
There is also a full page poster advertising the Casanova DVD in Heat magazine. So there ya go, that's two mags you'll have to spend your hard earned cash on this week!
David attended the opening night of Arthur Miller's Death of a Salesman at the Lyric Theatre at the weekend.
At the after show party held at The Atlantic Bar in Piccadilly, he was quizzed by journalists from The Times. When asked if he agreed with the controversial censoring of the new Doctor Who DVDs because of cruelty to Daleks, he replied diplomatically: "Please don't ask me anything difficult."
All the papers are running the story that Billie Piper has quit Doctor Who and will not be appearing as David's assistant for the whole of the new series. The above photo was taken from The Daily Star and the following report comes from Ananova:
Well who's this? It's none other then David Tennant pictured whilst playing the part of Romeo during an RSC production of the play, Romeo & Juliet, it seems that school kids everywhere will be able to see the new Doctor Who star during their English lessons as he is appearing on the front cover of the Oxford School Shakespeare book!
20/05/2005, 11:03am GMT
Loads of updates to the
Photos
pages with new Casanova, Blackpool, He Knew He Was Right, Taking Over The Asylum, Foyle's War and many more!
The
Interviews
have also been updated with two new articles. Thanks to Emerald for submitting the 'Who's This?' one.
19/05/2005, 10:28am GMT
David's latest Big Finish audio play, The Wasting, is due to be released next month. He plays the part of Colonel Brimmicombe-Wood in the latest in the UNIT series.
A deadly flu-like infection is sweeping the planet. Its first cases appeared in Britain but now millions are infected worldwide and there is no sign of a cure. The emergency services can't cope with what the press have dubbed a plague…
Under attack from all sides, UNIT in Britain is in disarray. It faces a stark choice - to close its doors and concede defeat, or to fight back, whatever the cost… and the injured Colonel Emily Chaudhry knows UNIT has never backed down from a battle…
If UNIT is to fight back, it's going to need the services of its missing commander, Colonel Brimmicombe-Wood, and the experience of the Brigadier, who can never refuse when duty calls…
If you would like to pre order the CD click here!
19/05/2005, 10:26am GMT
I have added another article about David getting the role as Doctor Who. You can find it on the
Interviews
page. Many thanks to Emerald for submitting it to us!
18/05/2005 17:48pm GMT
David has been nominated for a Critics Award for Theatre in Scotland. He is nominated for his role as Jimmy Porter in Look Back In Anger by John Osborne -Royal Lyceum Theatre, Edinburgh production. The play itself has been nominated for The Best Theatre Production and the director Richard Baron is also a nominee.
The winners will be announced in an awards ceremony and celebration on the 5th June 2005 at the Tolbooth in Stirling. Good luck David!
18/05/2005 17:45pm GMT
We hope you like the new look site, we know it's not that long since the first design but we had so much stuff on there that we thought we'd better streamline it a bit. Let us know what you think on the messageboard! We've added a new
Portrait Shoot
gallery too so check out the new photos! Also just added
The Last September Trailer
to the Downloads section so check that out!
I've added some more new photos to the
Images
page. Enjoy!
15/05/2005, 12:50am GMT
Just added some more media to the
Downloads
page, there's a couple of interviews about Quatermass on there and a short film with Ray Winstone.
14/05/2005, 11:30pm GMT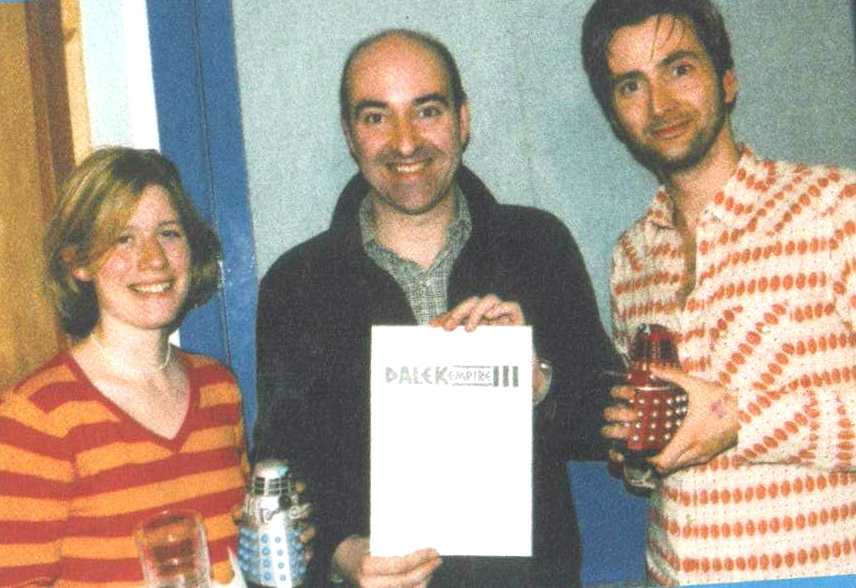 Click to enlarge!
I was just looking through some of my old Doctor Who mags when I stumbled upon a photo of David in the August 2004 copy. It was taken of him and some of his fellow actors whilst recording chapter three of the Dalek Empire series! Who'd have thought he'd have gone on to play the Doctor!
13/05/2005, 11:37pm GMT
Charlie Brooks
, who played Janine Butcher in EastEnders, has been signed up to play David's love interest in the new Radio 4 series, Dixon Of Dock Green. She will play Dixon's daughter Mary who is married to David's charater PC Andy Crawford. The show will air next month over a series of six episodes.
13/05/2005, 11:40pm GMT
Jack has updated the site today with a new article about David on the
Interviews
page and loads of new pics we were kindly sent in by Katie can be seen on the
Images
page. Special thanks to Sam for her scan of her David autograph!
12/05/2005, 17:08pm GMT
A big thank you to Sue, on our message board, who posted a link to the animated Doctor Who story, Scream Of The Shalka, it stars Richard E Grant as the Doctor and David is in it as the caretaker. If you would like to watch it click
here.
12/05/2005, 17:05pm GMT
I've added more new pics to the
Images
page, with updates to the Casanova, Baftas and Kingdom Of Heaven galleries.
I will be working on some cool stuff for users of message board over the weekend. If there is anything that you would like to see on the site, just give me an e-mail and I will do my best for you. We've had hundreds of hits already, so a huge thank you to you all, I hope you continue to visit the site and to support David.
A big hello to everyone who has been kind enough to mail me and say they enjoy the site too, it's much appreciated!
11/05/2005, 17:27pm GMT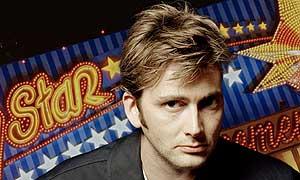 Hooray! The BBC have decided to relaese the utteryly fantdabbydosie Blackpool on a 2 disc DVD and you can get your mits on it on Monday 1st August 2005! Even better than that if you pre order it online today at the BBC shop you can get a 25% discount!
Blackpool is one of David's best loved series and if you missed it or not it's a must have buy. Click
here
to purchase it from the BBC!
More about the show:
This story of the bright lights and faded grandeur of Britain's famous seaside resort is at once an entertaining musical and a thrilling murder mystery. A darkly comic look at greed, love and family, the story follows the rise and fall of local arcade owner Ripley Holden, a charismatic family man with a dark past, who is now poised to make top dollar - if the city can successfully reinvent itself as the Las Vegas of the Lancashire coast.

As Ripley struggles to keep his chaotic family in check, he hangs on to one hope: that the good life is just around the corner. But he soon finds himself under suspicion and out of control, when the a young man is found dead in his showpiece arcade. Investigating officer Carlisle is determined to get to the truth, no matter what it takes...
10/05/2005, 12:40pm GMT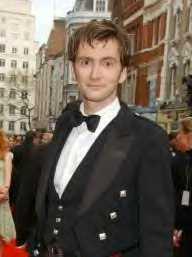 New Doctor Who David Tennant wants to be the first Time Lord to wear the kilt.
The Paisley-born actor, 33, said it was time the character had a new dress code.
Tennant, who wore full Highland dress to the TV Bafta awards, was forced to hide his Scots accent to play the legendary lover Casanova in the recent hit BBC series.
But he has said the 10th Doctor will definitely be Scots.
Last night, he said: 'I would love to be the first Time Lord to wear a kilt.
'And I intend to speak with a full Scottish lilt when I make it into the Tardis.'
David, the son of a Church of Scotland minister, will replace Christopher Eccleston as the Doctor for the show's Christmas special and follow-up series next year.
The kilt promises to become as well-known as former Doctor Who Tom Baker's multi-coloured scarf.
David said: 'Taking over from Chris is a daunting prospect. He has done a fantastic job and is a very tough act to follow.'
David is to start filming in Cardiff in July.
10/05/2005, 12:36pm GMT
David Tennant has had a busy year. Since starring in the critically acclaimed drama series, Casanova, Tennant has signed on to take over from Christopher Eccleston in Doctor Who for the next series and has just wrapped time on Harry Potter And The Goblet of Fire. We pulled the actor aside last night at the European Premiere of Kingdom of Heaven to catch up on wizards and daleks.
"I'm playing Barty Crouch Jr. in the new Harry Potter film," he told us, "it should be good. I think I've done all my stuff, as far as I know, but I'm really looking forward to seeing it."
Onto more meaty matters, we were keen to gauge Tennant's impressions on Tardis-hopping as the new Doctor Who. "It's very exciting and very daunting," he told FilmFocus, "in equal measures. Just the amount of attention it gets is quite overwhelming. But there's no better show in the world. We start shooting in July."
The current Doctor, Christopher Eccleston, ends his time with a Christmas special that will likely introduce Tennant. But the actor told us he had no plans to try and outdo Eccleston's Doctor. "Christopher Eccleston was brilliant, I will put my own mark on the part, but there is no competition".
10/05/2005, 12:32am GMT
Little Britain star David Walliams is to write an episode of Doctor Who.
Doctor Who producers apparently decided that Walliams' sense of humour would be perfect for the show. He will write an episode for the next series, which will see David Tennant taking over from Christopher Eccleston in the role of the Doctor.
Walliams, who has been linked romantically with Patsy Kensit, Abi Titmuss, Denise Van Outen and Jayne Middlemiss, has even taken Billie Piper out to dinner to find out more about her character, Rose Tyler.
"Russell T. Davies, the chief scriptwriter, is a massive fan of Little Britain," a source told the Sunday Mirror. "He was impressed by the fact David's comedy writing is always full of really original ideas.
"David jumped at the chance and is taking it very seriously."
10/05/2005, 12:30pm GMT
More updates for you. Firstly thanks to Katie who sent some more new pics in, you can see them on the
Images
page. I've also found a really good interview from The Times about Casanova, you can read it on the
Interview
page. I've added two new sections to the site (with more to come as we grow bigger!) the
Fans
section where I have answered some of your e-mails and you can chat online to other fans and the
Links
section where I have added some of the best David links that I could find.
09/05/2005, 10:19am GMT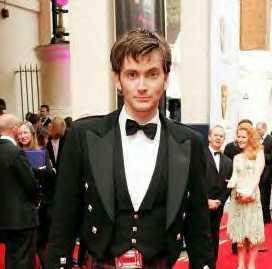 The next Doctor Who could be jumping in his Tardis and landing in Paisley this Christmas.
The Paisley Daily Express understands that Paisley-born actor David Tennant, who has just been confirmed as the next Time Lord for the popular BBC show, is to be invited to switch on the town's festive lights.
Yesterday, town centre bosses were remaining tight-lipped about the possibility of the soon-to-be mega-famous thespian flicking the switch at the Christmas ceremony.
But one insider said: "David Tennant is definitely going to be invited to do this.
"We are just hoping he will be free and will be able to come up.
"He's bound to attract huge crowds, not just from Paisley but from all over the country.
"It could be a huge event. He has become so well known after his hit television drama Blackpool and more recently Casanova."
David, a former pupil of Paisley Grammar, has been making a name for himself over the past few years in a number of successful television and film dramas.
But scooping the role of Doctor Who means his career will launch into the big time.
09/05/2005, 10:15am GMT
I'm sure most of you already know that David will be playing the part of Barty Crouch Jr in the new Harry Potter film, Harry Potter And The Goblet Of Fire. Well it's not released in cinemas in the UK until 18th November 2005, but David has already filmed most of his part and the trailer for the film has now been released to excited fans across the globe. You can watch it online at
www.the-leaky-cauldron.org
09/05/2005, 10:10am GMT
Firstly a big hello to all our new visitors, we hope you like the site and that you will continue to visit us as we will be your one stop guide to everything that David is doing.
We've added two new interviews with David to the
Interviews
page, one from his time in The Lobby Hero and one's a new one from earlier this year. If anyone has any other interviews that they would like to share e-mail me at
sarah@david-tennant.com
Thanks!
I've also added another couple of photos of David in Casanova to the
Images
page so make sure you check them out too!
08/05/2005, 15:05pm GMT
Classic BBC TV police drama Dixon of Dock Green is to make a comeback - but this time as a series on Radio 4. The show will star Lawless actor David Calder as George Dixon and Casanova's David Tennant as Andy Crawford. A series of six programmes will be broadcast in June and will be based on the original TV scripts. The BBC One series, starring Jack Warner, ran from 1955 to 1976 and was one of the most popular shows of its day, watched by over 14 million people. Set in the East End of London, Dixon of Dock Green focused on the everyday routine tasks of local police, troubled mainly by low-level crime. Compared to contemporary police dramas, the show was gentle and slow-paced, summed up by the comforting central character of Dixon with his catchphrase "Evenin' all".
Dixon was a pillar of his community, honest to the core, firm but fair. The end of every episode saw him standing beneath the police station's lamp giving his thoughts on the day before walking off and whistling. The series was the creation of writer Ted Willis and was voted the second most popular show on TV in 1961.
Ratings for the show began to drop off by the end of the 1960s, when a more aggressive style of police drama was becoming the norm. Jack Warner carried on acting until the late 1970s. He died in 1981.
Source: www.bbc.co.uk
08/05/2005, 12:30pm GMT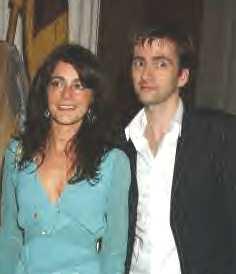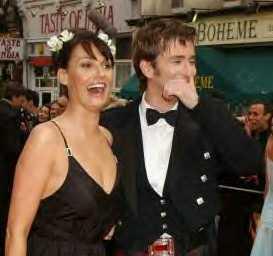 David has been linked with a whole load of lovely ladies this week, the latest being Louise Delamere, star of Channel 4's No Angels. The pair attended the premiere of Kingdom Of Heaven in the West End earlier this week, but whilst there he also had to fight off the attentions of Emmerdale beauty Amy Nuttall.
Amy, who told her pals that she thought David was 'very attractive' decided to make a play for him, but unfortunately he didn't know who she was and the whole thing ended up being a bit embarrassing. Her friends told The Daily Star 'David wasn't rude he just didn't know who she was. Her advances where met with just a polite shrug of the shoulders.'
Earlier this month David was linked to Cutting It actress Sarah Parish, with whom he appeared in the BBC drama Blackpool, but he says he is too busy for romance at the moment, adding that he takes his close female friends to celebrity events as that sort of stuff is new to him an he feels very conspicuous alone.
08/05/2005, 12:00pm GMT
We have uploaded loads more pictures to the image section of the site. If you have any pics that we could use please e-mail me
sarah@david-tennant.com
06/05/2005, 14:30pm GMT
David Tennant will turn pyscho stalker for ITV before becoming the new Doctor Who. David, 33, has signed to play Brendan Block in the thriller Secret Smile. Brenadan has a steamy fling with a stranger called Miranda and is dumped after breaking into her flat to read her diaries. But he shows up again as the lover of her sister.
Speaking at the Lucerne Festival, David said "Brendan is a dangerous and complicated character. It's a fantastic challenge. I look forward to indulging my dark side."
Source: The Sun

03/05/2005, 10:15am GMT
You may have noticed that David is currently appearing, alongside various other celebrities, in a party political broadcast on behalf of the Labour party. You can see it on ITV and BBC tonight at 6.55pm.
He told the Daily Star "I will be voting for Labour this time because the alternative is a disaster area."
03/05/2005, 11:30am GMT
Sorry this is so late, but I have only just found out that David appeared in a live version of the Quatermass Experiment on BBC4 last month. It was a two hour live broadcast and apparently David skidded over whilst running down a corridor! Ooops! Here's what
www.bbc.co.uk
have to say:
As part of TV On Trial, BBC Four is recreating a cult classic, first transmitted live in 1953 and since lost in the archives. In the BBC Four version, to be performed live, Jason Flemyng stars as Professor Bernard Quatermass, whose attempts to push back the frontiers of space lead to terrifying consequences. When a rocket returns from its mission with only one of the crew still alive it soon becomes clear that something is terribly wrong...