31/07/2008, 17:00pm BST
As David takes on the role of Hamlet in Startford, the Guardian's G2 supplement takes a look at the actors who they consider to have been the greatest Hamlets so far and discusses what each actor brings to the part..
In 2003 Radio 4 aired three radio plays about the Caesars, David played the part of Caligula in the third of these plays, Peeling Figs For Julius.
BBC7 repeats the plays on three consecutive days from Monday 4th August. You can hear David's play on Wednesday 6th August at 11:00am.
Front Row, Radio 4's live magazine programme on the world of arts will include a report from the first night of Hamlet in their Wednesday 6th August show at 19:15pm.
The nominees for the UK Nickelodeon Kid's Choice Awards have been announced today and it's a good year for Doctor Who.
David has been nominated as Favourite Male TV Star, Freema Agyeman and Catherine Tate have both been nominated as Favourite Female TV Star, the show is up for Favourite Family TV Show and even the Daleks have had a look in with a nominationin the Favourite Baddie category.
The above photo of David as Hamlet is from today's edition of The Telegraph.
This Sunday, Doctor Who comes to the BBC Proms for a very special musical celebration hosted by the lovely Freema Agyeman.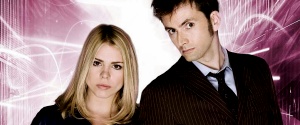 Earth's greatest heroes assemble in a time of dire need, in tonight's penultimate episode in this series of Russell T Davies's Bafta Award-winning time-travelling drama. But can the Doctor's secret army defeat the might of the new Dalek Empire?
With battles on the streets and in the skies, the Doctor and Donna must brave the Shadow Proclamation to find out the truth. However, a fearsome old enemy waits in the shadows...
The Stolen Earth airs tonight on The Sci Fi Channel at 9/8 C.
Visit The Stolen Earth section

here

.
Just a quick note that to avoid disappointment it should be noted that it is impossible to predict on any given night whether any of the performers will be available to make an appearance at the stage door.
If you do see David after a performance please be respectful of his time and privacy. Don't forget that he will have just performed a very demanding role and he won't have time to sign mountains of memorabilia.
If you are unsure about theatre etiquette, what you are and aren't allowed to do and how to be as considerate to the cast and fellow audiences members as possible then here are a few of the main points you need to know:
One of the most unwelcome things in the theatre has to be the mobile phone. Mobile phones (along with anything else that bleeps, buzzes or makes any kind of electrical noise) should be switched off well in advance.

Cameras, video and tape recorders are strictly prohibited in the theatre.

Once you have taken your seats in the theatre you are advised to remain in them until the interval so make sure you are comfortable and have everything you need before the curtain rises.

Although the performance tends to be exciting and enjoyable, noise from the audience can be very distracting for the performers, so the audience will be expected to sit quietly in their seats during the performance.
We hope you all enjoy the show and have a great time!
Doctor Who Series 2 & 3 Available on iTunes In The USA
Series 2 & 3 of Doctor Who, featuring David as the Doctor, are now availble to download from iTunes in the USA.
David has been shortlisted for an award that praises eco friendly celebrities. He is up for the title of Greenest Star at Playhouse Disney's Playing for the Planet Awards.
David earned his nomination for his championing of hybrid cars.
You can also vote via the following free postal address:
Playing For The Planet Awards,
Freepost,
Playhouse Disney
All votes must be in by 31st July 2008.
Tickets for the Shakespeare And Me talk that David will be participating in are now on sale.
The details are as follows:
RSC actors David Tennant and Patrick Stewart join RSC Chief Associate Director Gregory Doran in conversation.
Sunday 31st August 11.45am The Courtyard Theatre £10
As the opening night for Hamlet draws ever nearer here are a couple of photos of David in rehearsals to keep you going...
Journey's End has been officially named the UK's most watched TV show for the week it was broadcast. It was watched by an amazing 10.57 million viewers. This is the first time in the show's history that it has been the most watched TV programme of the week. It also scored an Audience Appreciation Index of 91!
Only 31 episodes of Doctor Who have made the Top Ten, 20 of those episodes starred David in the role of the Doctor.
A fun idea by two BBC staff members has resulted in a hilarious mash up of Doctor Who and Top Gear.
Inspired by his colleague Simon Catt, Matt Taylor of the BBC's Repeats & Reversioning team had the idea of combining David Tennant's appearance in Top Gear's Star In A Reasonably Priced Car slot with clips of the TARDIS in flight from Doctor Who.
The result - with Jeremy Clarkson talking Tennant through his spectacular 'lap' in the Space/Time machine - so impressed their boss Gill Holmes, that it found its way to Mark Harrison, Head of the BBC's Multiplatform Studio and then to Peter Salmon, Chief Creative Officer of the BBC Vision Studio.
Coincidentally, Peter was due to visit the Top Gear team this Wednesday, and showed the clip to Clarkson and Top Gear's Executive Producer Andy Wilman. They loved it and agreed that it could be put online.
Doctor Who 2008 Story Book
The third Doctor Who Storybook is on the way. Featuring the Doctor and Donna, the book contains seven brand new short stories, many by writers from the TV series itself:
Hello Children, Everywhere, written by Paul Magrs, illustrated by Brian Williamson.
Grand Theft Planet! written by James Moran (The Fires of Pompeii), illustrated by Daryl Joyce.
Cold, written by Mark Gatiss (The Unquiet Dead, The Idiot's Lantern), illustrated by Ben Willsher.
Bing Bong, written by Gareth Roberts (The Shakespeare Code, The Unicorn and the Wasp) & Clayton Hickman, illustrated by Dan McDaid.
Island of the Sirens, written by Keith Temple (Planet of the Ood), illustrated by Adrian Salmon.
The Puplet, written by Gary Russell, illustrated by Andy Walker.
Hold Your Horses, written by Nicholas Pegg, illustrated by Jon Haward & Nigel Dobbyn.
Plus there's a comic strip, The Immortal Emperor, written by Jonathan Morris with art by Rob Davis, and A Letter from the Doctor, as told to new showrunner Steven Moffat (The Empty Child/The Doctor Dances, The Girl in the Fireplace, Blink, Silence in the Library/Forest of the Dead).
The 80-page hardback also features a new painted cover by Alister Pearson and a frontispiece by David A Roach. Published by Panini Books and edited by Clayton Hickman, The Doctor Who Storybook 2009 will be available in August, priced £7.99.
David has sent the following message to all of you who were kind enough to participate in his birthday book...
Click a pic to enlarge!
The BBC's Autumn schedule has been released with further details of Einstein And Eddington:
David Tennant and Andy Serkis star in this drama set amid the chaos and uncertainty of the First World War. Einstein And Eddington chronicles the interlinked stories of two extraordinary men striving for a greater truth while refusing to be constrained by national boundaries.
Albert Einstein (Serkis) spent years working on his General Theory of Relativity, which threatened to overturn two centuries of Newtonian certainty and the foundations of British science. Arthur Eddington (Tennant) was a prominent British astrophysicist who, as a Quaker, believed that "truth knows no boundaries" and bravely championed Einstein's theories while Britain rejected anything German.
In 1919, Eddington undertook an expedition to Africa to photograph light bending round the sun during an eclipse. These photographs not only proved the theory to be correct, but turned Einstein into a worldwide superstar.
Directed by Philip Martin (Prime Suspect – The Final Act) and written by Peter Moffat (Hawking), Einstein And Eddington co-stars Jim Broadbent, Lucy Cohu, Jodhi May and Rebecca Hall.
Einstein And Eddington is due to be aired on BBC Two in the Autumn.
There are only 150 cards signed by David left now, so if you would like to get your hands on one, you're going to need to be quick!
The Stolen Earth and Journey's End will both be repeated on BBC One on Sunday 13th July from 17:35pm.
Yes it's that time of year again, it's the first round of voting for the National Television Awards and David has been nominated for the award for Outstanding Dramatic Performance.
This category replaces the usual Most Popular Actor / Actress award, bringing a mixed group of nominations.
Doctor Who is also nominated in the Most Popular Drama category.
All votes must be in by 1st August 2008 and multiple votes will be disqualified. Winners will be announced in a ceremony in October 2008.
Last night's finale of Doctor Who was watched by a staggering 9.4 million fans in the UK, giving it a 45.9% share of the total television audience. Doctor Who will return to BBC One on Christmas Day.
'The Doctor' and Rose share a kiss:
Christmas 2008 Trailer:
The entire universe is in danger as the Daleks activate their masterplan, in the concluding episode of Russell T Davies's Bafta Award-winning time-travelling drama. The Doctor is helpless, and even the Tardis faces destruction. The only hope lies with the Doctor's secret army of companions – but as they join forces to battle Davros himself, the prophecy declares that one of them will die.
The dramatic series finale Journey's End airs at 18:40pm on BBC One tonight.
Don't forget to switch over to BBC Three at 19:45pm to watch the new Doctor Who Confidential episode.
Visit the Jouney's End section

here

.
Fans, the press, everyone in the UK is currently gripped by Doctor Who fever as we await the finale of series 4 on BBC One tonight.
GM:TV, This Morning, Richard & Judy and BBC Breakfast are amongst others who also covered the story with their own take on what could happen.
The papers have also all been full of speculation many taking the opportunity to praise David for his fantastic portrayal of the Doctor. We've selected the best of them for you to read below:
04/07/2008, 15:09pm BST
Doctor Who Screening At London Pride
As part of the Pride London 08 @ Central London celebrations, the Doctor Who team have arranged for a special screening of Journey's End at 7pm in Trafalgar Square. The spectacular episode will be introduced by none other than Martha Jones herself, Freema Agyeman. Just so long as Project Indigo gets her there safely. Events in Trafalgar Square are due commence at 2pm, and follow the enormous Pride London Parade. Attendees to the free event are promised an afternoon of entertainment, speakers, community and music on the Main Stage in Trafalgar Square and across Soho. We must stress, however, that times and line-ups for the screening are subject to change. Pride London aims to promote equality and diversity through theatre, music, debate, art and entertainment - uniting people in a celebrative atmosphere where all are welcome. For more details visit the London Pride website here.
The Doctor & The Master In Top Heroes And Villains Poll
The Doctor has been voted one of the nation's top heroes in a poll carried out by TV channel Hallmark.
The Top 3 TV heroes in the UK were Gene Hunt from Life On Mars and Ashes To Ashes played by Phillip Glenister, Jack Bauer from 24 played by Kiefer Sutherland and The Doctor from Doctor Who played by David Tennant. The Master as portrayed by John Simm was voted the Top Villain.
What's On Stage Magazine
There is an article about David and Catherine Tate returning to the theatre in this month's issue of What's On Stage magazine.
03/07/2008, 17:40pm BST
Daleks Invade the Art World
Department Six extends its portfolio this month when a new collection of exclusive Doctor Who art work is released for sale.
David receives an original concept art work...
With universal appeal, these exclusive, premium quality limited edition prints are a must have and make an ideal gift for any Doctor Who fan or collector of art.
Inspired by the scripts, these iconic illustrations are integral to the process behind the scenes of Doctor Who. They are the first design visuals of the final images we see on our television screens.
Created for Russell T Davies' new series of Doctor Who, these highly collectable giclee limited edition prints include a full colour redesign of the iconic Daleks, detailed early sketches of the Emperor Dalek, the redesigned Doctor's handy Sonic Screwdriver from the 2005 series, the TARDIS paradox machine and a full colour concept of the exterior Titanic as seen in the 2007 Christmas Special 'Voyage of the Damned' featuring Kylie Minogue.
Each print is guaranteed to endure time travel and, like the series, consideration has gone into every detail of the printing and packaging. Of archival quality and preserved in a delicate fine tissue of Gallifreyan text, these special prints are beautifully presented in a bespoke box and mounted ready for framing.
Each limited edition print is numbered and signed by the concept artist and production designer working on the new series of Doctor Who and includes a certificate of authenticity.
Prints are available to purchase online at www.departmentsix.com and prices start at £120.
03/07/2008, 16:22pm BST
Free Jimmy To Get Cinema Release
Free Jimmy has taken a while to get a UK release, but the animated yarn, featuring David's vocal talents as Hamish, should finally hit UK cinemas in September. You can visit the film's official site here. (Includes adult content.)
02/07/2008, 09:21am BST
TV Quick & TV Choice Awards Voting Back Open
The TV Quick and TV Choice awards voting has reopened with it's shortlists.
As we told you last week David has been nominated for Best Actor. You can vote for David, as well as for Doctor Who in the Best Drama, and Catherine Tate in the Best Actress category
here
.
The awards are being held at the Dorchester in London on Monday 8th September 2008.
01/07/2008, 17:48pm BST
The Stolen Earth Breaks Audience Appreciation Record
The last episode of Doctor Who, The Stolen Earth has received a record breaking Audience Appreciation figure of 91, the highest score the programme has ever received on its first showing, this is one of the highest figures ever for a mainstream television programme.