Thanks to the RSC and Ellie Kurttz for the above photos of David rehearsing for Love's Labour's Lost.
Love's Labour's Lost opens with previews from Thursday 2nd October at The Courtyard Theatre, Stratford Upon Avon.
Thanks to Liz.
ITV1 will be hosting the network permiere of Harry Potter And The Goblet Of Fire, which stars David as Barty Crouch Jr, next Sunday 5th October at 19:10pm.
Thanks to Tom.
It will be available to watch until 10:49am on Saturday 4th October 2008.
David has won the award for Best Lead Actor In A Drama Series in a poll conducted by Time Out New York.
The reader awards are to recognize the outstanding actors and programmes that failed to receive Emmy nominations in real life.
The all important question for the Doctor Who Children In Need Tour competition was announced on this morning's Chris Moyles show.
Details are as follows:
It will be available until Friday 3rd October 2008 at 7:02am.
On Friday 26th September Radio 1 Chris Moyles' show will be broadcasting live from the Doctor Who set in Cardiff.
Chris will be talking to David, Billie Piper and Russell T Davies for interviews over the phone and will also be unveiling the launch of 'something special' for this year's Children In Need Appeal.
David has written the foreword for a new children's book, 'We Are All Born Free' which is being released to celebrate the 60th anniversary of Amnesty International UK.
It is a book of illustrations , each one representing an article of the UN Universal Declaration of Human Rights.
David is also featured in the September / October 2008 Amnesty Magazine.
4Music will be repeating The Friday Night Project with David as the guest host tonight at 22:00pm.
The 9th October 2008 sees two new Doctor Who audio releases.
Details as follows:
Catherine Tate reads this exclusive thrilling story, in which the Doctor and Donna are imprisoned on the Edifice - and become neighbours to a terrifying assortment of aliens. When the TARDIS is invaded by a holographic marketing scam, the Doctor and Donna find themselves trapped on the Edifice, a purpose-built complex of luxury apartments in space. Their new environs leave much to be desired: millions of beings from across the Universe have been gathered to live side by side in similar apartments. Instead of creating neighbourly affection, it's led to terrible battles being waged in the corridors and on the stairwells.The Doctor and Donna must cross the paths of deadly alien mobs as they search for the Edifice's ultimate authority. Who - or what - lies at the heart of the incredible complex? What destructive scourge is eating away at the Edifice itself? And are the Doctor and Donna trapped forever in this living hell? "The Forever Trap" features the Doctor and Donna, as played by David Tennant and Catherine Tate in the hit BBC Television series "Doctor Who". Written specially for audio by Dan Abnett.
The Doctor and Martha face danger and horror in these three thrilling stories, read by Freema Agyeman, Georgia Moffett and David Troughton.
"Martha in the Mirror", read by Freema Agyeman, sees the duo arriving at Castle Extremis, which is about to play host to the signing of a peace treaty. But not everyone wants the war to end. Who is the little girl who haunts the castle? Who is the hooded figure that watches from the shadows? And what is the secret of the legendary Mortal Mirror? Written by Justin Richards.
"Snowglobe 7", read by Georgia Moffett, is set on Earth in 2099, when global warming is devastating the planet. In a desperate attempt at preservation, the governments of the world have removed vast sections of the Arctic and Antarctic and set them inside huge domes. But a hidden threat has been preserved beneath Snowglobe 7...Written by Mike Tucker.
"The Many Hands", read by David Troughton, finds the Doctor and Martha travelling back in time to eighteenth-century Edinburgh. The Nor' Loch is being filled in, officially because it's a stinking cesspool. But why are there so many whispered stories about the loch - stories about the Doctor, and the many hands of Alexander Munro? Written by Dale Smith.
Containing over seven hours of engrossing listening, this is a collection no "Doctor Who" fan will want to be without.
In 1997 David took part in a six part documentary series exploring the works of Shakespeare. Below you can watch a clip of him performing a scene from Measure For Measure.
Many thanks to Liz.
Series One of Double Income No Kids Yet will begin a repeat run on BBC7 from Thursday 25th September at 17:00pm. Each episode will be repeated again on the following Friday at 06:30am.
Russell T Davies and Doctor Who Magazine writer Benjamin Cook have a fab new book 'The Writer's Tale' out on Thursday 25th September.
Russell and Benjamin will be doing some book signings across the UK next month, you can see them at the following venues:
Wednesday 8th October, Waterstones, Picadilly, London 18:00pm
Thursday 9th October, Waterstones, Highstreet, Birmingham, 12:00pm
Thursday 9th October, Waterstones, The Trafford Centre, Manchester 18:00pm
Friday 10th October, Borders, Bristol, 10:30am
Friday 10th October, Borders, Cardiff 17:30pm
You can read previews of the book courtesy of The Times Online here.
David has very kindly signed another 400 cards to raise funds for Headway Essex. The cards would make the ideal Christmas gift for any fans of David or Doctor Who and not only would you be giving a friend a real treat but you'd be helping a very deserving charity too!
Click to enlarge!
David's 1998 movie LA Without A Map is screening as part of NMM's Made In Bradford season from tomorrow.
Wednesday 17th September 2008 and Thursday 18th September 2008, NMM, Prince's Way, Bradford, Wednesday 15.45pm, Thursday 10.30am and 18:00pm, £5.50, concs available.
The award ceremony takes place on 21st September 2008.
13/09/2008, 12:12pm BST
Limited Tickets Made Available
The Novello Theatre have made a limited amount of tickets for the London run of Hamlet available to book over the phone. You must call the Box Office in order to get these tickets on 0844 482 5138, they aren't available over the theatre's website.
12/09/2008, 15:00pm BST
Hamlet London Dates Sold Out
Tickets for the London run of Hamlet at The Novello Theatre have already completely sold out.
The official theatre booking site crashed within minutes while fans jammed the telephone hotline, snapping up all 6,000 tickets by the end of the morning. Hundreds of people queued outside the Novello in the hope of getting tickets, with some camping out in the street overnight.
An RSC spokeswoman said of David's influence on the audience: "The great news for us is that it's encouraging that younger contingent of theatre-goers, which is one of our real aims. David has been wonderful in encouraging those people to come."
We hope you all managed to get a ticket!
12/09/2008, 10:00am BST
RSC Public Booking For Hamlet At The Novello Open Now!
Booking is now open for the London dates of Hamlet at The Novello Theatre.
Please note that due to overwhelming demand during RSC Members' priority booking, there is limited availability for tickets. To ensure as many people have the opportunity to see Hamlet as possible, tickets will be limited to 4 per person.
Running from 3rd December 2008 - 10th January 2009.
Any queries should be sent to the RSC or The Novello Theatre as we are unable to help you with ticket enquiries.
To book tickets please ring the Novello on 0844 482 5135 or book online here. NB* Tickets Are Now Sold Out.
David Nominated For Best Actor Award
David has been nominated for an award for Best Actor In A Sci Fi TV Show Or Movie at the Scream 2008 Awards. The awards are run by USA station Spike TV and will be aired on the channel on 21st October 2008.
Vote for David at the Scream 2008 Awards here.
10/09/2008, 11:09am BST
Watch David's Acceptance Speech
As reported yesterday David won the award for Best Actor at the TV Quick / TV Choice Awards on Monday night. You can now watch his acceptance speech above.
09/09/2008, 10:27pm BST
David Wins Best Actor At TV Awards
Congratulations to David who has won the award for Best Actor at the TV Quick / TV Choice Awards. The ceremony for the awards was held last night in London, but David couldn't pick up his award in person as he was performing as Hamlet in Stratford Upon Avon.
It was yet another good year for Doctor Who with David's co star Catherine Tate receiving the award for Best Actress and the show itself picking up Best Loved Drama, so well done to Catherine and the rest of the cast and crew who worked on the series too!
08/09/2008, 11:27am BST
Watch The Quatermass Experiment On BBC iPlayer
If you happened to miss David in The Quatermass Experiment on BBC Four last week, then fear not as you can use the BBC iPlayer to catch up and watch the episode until 12:09am on Wednesday 10th September 2008.
06/09/2008, 13:37pm BST
Takin' Over The Asylum On BBC Four Tonight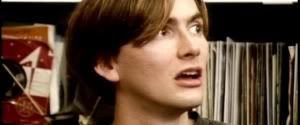 BBC Four concludes its repeat run of Takin' Over The Asylum from 22:00pm tonight with the last two episodes airing back to back.
Rainy Night In Georgia:
Eddie, Campbell, Francine and Rosalie attend Fergus's funeral. Campbell and Eddie are invited to Radio Scotland to record a demo. Meanwhile Eddie's relationship with Francine begins to flourish and she begins to tell him of the awful events that have bought her to St Judes.
Takin' Over The Asylum: Rainy Night In Georgia airs tonight on BBC Four at 22:00pm.
Let It Be:
The death of the stray kittens devastates Francine, and even Eddie cannot console her. Jim is appalled by Rosalie's living conditions. Campbell's star is rising as the odds appear to be stacking up against Eddie. The radio station is in danger of closing, and he's in danger of being fired From Twinview.
Takin' Over The Asylum: Let It Be airs tonight on BBC Four at 22:50pm.
Visit the Takin' Over The Asylum section

here

.
05/09/2008, 17:45pm BST
RSC Open Day & Shakespeare And Me Photos
The RSC website has now got a 'Virtual Open Day' for those who weren't lucky enough to be there on Sunday. You can watch videos, see photos and read accounts of the day
here
.
Meanwhile thanks to everyone who has sent in their photos of David taking part in the 'Shakespeare And Me' chat on the day. You can see them
here
.
Love's Labour's Lost Casting Revealed
As you all know David will be playing the role of Berowne in Love's Labour's Lost, but now the RSC have released further details of the casting of the production in the following press release:
RSC Chief Associate Director Gregory Doran directs his third play in the Company's highly successful 2008 summer season – a new production of Shakespeare's rarely performed exuberant comedy Love's Labour's Lost.
The play explores the power of love over reason, and tells the story of the King of Navarre and the nobles of his court who vow to study, fast, sleep little and see no ladies for three years. But when the Princess of France and her ladies arrive in the kingdom, the Lords discover their resolve is more difficult to keep then they first imagined.
Gregory Doran has already opened productions of A Midsummer Night's Dream and Hamlet in the RSC's Courtyard Theatre.
The last time that the RSC produced Love's Labour's Lost was in 1995, directed by Ian Judge. It was also presented in Stratford as part of the 2006/07 Complete Works Festival by the Shakespeare Theatre Company from the USA.
"Although it seems tough on the page, I think Love's Labour's Lost flies onto the stage," says Doran on the reasons he thinks that the play is so rarely performed. "Of all Shakespeare's plays I think it has the most wit. It is about a young man showing off with a firecracker display of verbal dexterity. It's the most delightful play, and it gives great opportunities to actors."
Talking about the look of the production, Doran says: 'We're pitching it in its period. It will be delightful to get the RSC's fabulous costume department to do their very best – producing a few ruffs and doublets and farthingales. We don't do it too often, so it's nice when we do.'
The same company of actors who are currently performing in Hamlet and A Midsummer Night's Dream have already begun rehearsals for Love's Labour's Lost. They are joined by Nina Sosanya who will play Rosaline. Nina last worked for the RSC in 2003 when she played Rosalind in As You Like It. Her recent theatre work also includes Alice in Fix Up for the Royal National Theatre and Sara in Roxanna Silbert's Almost Nothing for the Royal Court. Her screen work includes Richard Curtis' film Love Actually and on TV: Bonekickers, Messiah, The Rapture, Dr Who and two series of Teachers.
Edward Bennett plays the Duke of Navarre with Sam Alexander as Dumaine, Tom Davey as Longaville, and David Tennant as the charismatic Berowne.
Mariah Gale plays The Princess of France, with Katherine Drysdale as Katherine and Riann Steele as Jacquenetta.
Completing the cast are: David Ajala (Lord), Ricky Champ (Costard), Ewen Cummins (Dull), Robert Curtis (Lord), Joe Dixon (Armado), Samuel Dutton (Lord) Oliver Ford Davies (Holofernes), Ryan Gage (Lord), Mark Hadfield (Boyet), Jim Hooper (Sir Nathaniel), Keith Osborn (Marcade), Roderick Smith, Andrea Harris (Lady), Zoe Thorne (Moth) and Natalie Walter (Maria).
The play is designed by Francis O'Connor (set) and Katrina Lindsay (costumes), the music is composed by Paul Englishby, lighting is by Tim Mitchell and the movement director is Michael Ashcroft.

Further information
The Courtyard Theatre, Stratford-upon-Avon
Plays in repertoire from 2 October – 15 November 2008
Press Night: Wednesday 8 October 2008, 7pm
Box Office 0844 800 1110, www.rsc.org.uk
02/09/2008, 15:04pm BST
The Quatermass Experiment On BBC Four Tonight
Don't forget that The Quatermass Experiment, featuring David as Gordon Briscoe, will be repeated on BBC Four at 22:30pm tonight and then again on Wednesday morning at 01:40am.
Listen To Greg Doran Talk About Hamlet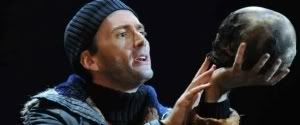 You can now listen to director Greg Doran discussing the challenges of staging Hamlet, a play familiar to audiences but full of difficult decisions for the director and actors courtesy of the RSC website
here
.
01/09/2008, 16:19pm BST
Einstein And Eddington Update
The BBC Press office have released a new trailer for the Autumn Drama schedule on the BBC.
Einstein And Eddington, starring David as Sir Arthur Eddington, features in the clip which you can watch below courtesy of
The Guardian
.