David has narrated a two part documentary called Swarm for BBC One. It's all about incredible invasions in nature - like killer bees and trillions of lake flies.
Part one will air on Sunday 4th January at 9:00pm and part two will air on Sunday 11th January at 9:00pm.
David has been named as one of the most influential people in showbusiness by entertainment newspaper The Stage.
He is only the fifth actor ever to make the top 20 - after Dame Judi Dench, Dame Maggie Smith, Nigel Havers and Simon Russell Beale - in a list normally dominated by theatre directors and producers.
Alistair Smith, The Stage's news and opinion editor, said that David's appeal was so strong he could "read the phone book" and still get people to buy tickets.
'David Tennant makes the top 20 of The Stage 100 this year because he has been the biggest box office draw of the year,' he added.
'In fact, he has been the biggest box office draw in recent memory. He has been one of the most influential figures because he was the reason a lot of people bought tickets to see Hamlet in the first place.
It's quite rare for us to list actors in the top 20, but when we do it is because they are performers who have a huge box office draw, no matter what production they are in.'
The full list appears in this weeks edition of The Stage which is out now.
This was originally broadcast on Radio 4 in 2003 and features David as Philip Wakem.
Good news for fans in Australia, you won't have long to wait to see this years Doctor Who Christmas Special.
The Next Doctor will air on ABC1 on Sunday 25th January 2009 at 7:30pm.
Secret Smile will air in Ireland on TV3 tonight at 9:00pm and will conclude at the same time tomorrow night.
11.7 Million tuned in to watch the show, making it the most watched episode of Doctor Who this year and the second highest watched episode of the new series of Doctor Who, the highest being Voyage Of The Damned.
The BBC have made this fab video tribute to Donna Noble! Watch it above..
It's Christmas Eve in 1851 and Cybermen stalk the snow of Victorian London, in this special Christmas edition of Russell T Davies's Bafta Award-winning time-travelling drama.
When the Doctor arrives and starts to investigate a spate of mysterious deaths, he's surprised to meet another Doctor, and soon the two must combine forces to defeat the ruthless Miss Hartigan. But are two Doctors enough to stop the rise of the CyberKing?
The Next Doctor airs at 6pm on BBC One on Christmas Day!
And don't forget to change over to BBC Three at 7pm for a brand new Doctor Who Confidential!!
Have a lovely Christmas!!
Visit The Next Doctor section here.
BBC Breakfast went behind the scenes of The Next Doctor, watch the clip above, with thanks to the BBC.
Don't forget to tune into More4 on Christmas Day at 7:55pm as David will be interviewed on To Be Or Not To Be...In Shakespeare. It's not to be missed!
The AICR have two tickets for Hamlet up for grabs in a secret auction. All proceeds will of course go towards the wonderful work that they do.
The ticket details are as follows:
1x 6th January
1x 8th January
Both tickets are front stalls.
Good luck and get bidding!!
Above are a couple of new photos of the Doctor in action as he sword fights with a Cyberman!
You can see a clip of this scene in the One Show video further down the page.
Plus thanks to the BBC for the clips of The Next Doctor and David Morrissey on Breakfast below:
Watch David's on set interview with The One Show and get an exclusive glimpse of the making of The Next Doctor above...
The RSC have issued the following statement:
Meanwhile the press seem very impressed with The Next Doctor with many describing it as the best festive episode of the new series of Doctor Who.
This years' Doctor Who Christmas Special, The Next Doctor, had it's press launch today.
Unfortunately due to the fact that he still recovering from his operation David was unable to attend, however Russell T Davies said he was confident that David will be fit enough to return to filming for the show on 19th January.
He also confirmed that the first of next years specials will be filmed abroad saying:
"It's going to be quite exotic, I can't tell you where, but we've got four days filming abroad, to give it a bit of size and a new feel to it."
Russell said each special would feature a different companion and that he would write David's two final stories as the Doctor which will be broadcast "toward the end of next year". Adding "The big climax is mine, all mine."
Fridays edition of The One Show will include a pre recorded interview that John Culshaw did with David that was recorded at the Doctor Who studios earlier this year so make sure you tune in to BBC One at 19:00pm tomorrow!
OK so it may have been half an hour later than the beeb expected, but it was still very exciting and now you can rewatch it over and over again until the big day should you so desire!
15/12/2008, 17:03pm GMT
Tune Into BBC One Tonight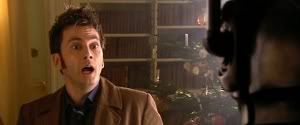 Make sure you tune into BBC One just before 20:00pm tonight as the BBC will be showing a special treat for Doctor Who fans...
You can also see it on the BBC Doctor Who site
here
.
12/12/2008, 15:53pm GMT
David Texts The Breakfast Show
David texted Christian O'Connell this morning as he was listening to the show over the internet in hospital. He said he was doing well after the operation and asked Christian to play Letter From America by The Proclaimers for him.
You can listen to the best bits of Christian's show on his website
here
.
11/12/2008, 12:54pm GMT
Updated: 17:26pm GMT
David Doing Well
David had his operation earlier today and we're sure you'll all be pleased to know that all went well. :)
Get Well Messages & Ticket Queries
We have had hundreds of get well messages for David sent to us via email in the last 24 hours and we thank you very much for those. We think that the best way for you to leave a message for David would to be on our forum
here
.
We promise that we will pass on your messages to him.
If you would like to send David a card or present you must send these to the usual fan mail address below:
David Tennant
c/o Independent Talent Group
Oxford House
76 Oxford Street
London
W1D 1BS
Please note that we cannot deal with your ticket queries you need to contact the RSC or the Novello Theatre. Due to the huge amount of ticket queries we regret that we won't be replying to emails that regard them.
10/12/2008, 13:00pm GMT
Updated: 17:20pm GMT
David To Undergo Surgery For Back Injury
David is to undergo surgery for a prolapsed disc tomorrow and will not be returning to Hamlet before Christmas.
He has issued the following statement:
"It is hugely disappointing for me to have to miss these performances. My back problem has progressed to the point where it is currently impossible for me to carry on without surgery. I want to get back on stage as quickly as possible and I am very grateful to Ed who has courageously got to grips with the role but in a much shorter time. It's a fantastic achievement."
Hamlet Update
The Novello Theatre have confirmed that David will not be appearing as Hamlet in tonights show.
David is still suffering from a back injury and is under medical advice not to perform.
The role of Hamlet will be played by Edward Bennett.
09/12/2008, 16:40pm GMT
Hamlet Press Night: Official RSC Statement
It has been confirmed that David Tennant will not perform at tonight's Press Night performance of the RSC production of Hamlet at the Novello Theatre in London due to a back injury.
The RSC has decided to go ahead with the press performance with the understudy Edward Bennett in the title role. David did not perform at last night's preview and Bennett took on the role to a standing ovation from the audience. He normally plays the role of Laertes.
RSC Artistic Director Michael Boyd said; "As an ensemble company we feel that it is important to go ahead with tonight's performance. While understanding that some people will be disappointed at not seeing David Tennant on stage, this production, like all our productions, is more than the sum of its parts – an ensemble of actors, designers, composers etc. and we should respect that by going ahead as planned."
RSC Chief Associate Director Gregory Doran and director of the production said "David is gutted, not only at the thought of disappointing audiences, but also to be unable to perform a role that he has worked on and developed throughout 60 performances in Stratford-upon-Avon. Before this injury, he has only ever been off for one performance in his entire career to date, and is hoping that he will be able to return to the show as quickly as possible. It is an indication of the RSC's investment in understudies that Ed Bennett can take over from David in one of Shakespeare's largest roles at such short notice."
The Next Doctor Articles
The TV magazines are all full of articles about the Doctor Who Christmas special, The Next Doctor this week. You can view some of them here.
08/12/2008, 15:07pm GMT
Updated: 08/12/2008, 19:05pm GMT
David Not Perfoming In Hamlet Tonight
We have just heard that David will not be performing in Hamlet tonight as he has injured his back and has been advised not to go on stage this evening. Edward Bennett will take the role of Hamlet instead.
New Trailer For The Next Doctor
Another trailer for The Next Doctor has been released and feature some new unseen scenes from the episode. You can watch it above.
Audio Update
Thanks to various members of the forum we've been adding to the audio section over the last week or so. Go and have a nose round and see if there are any downloads you may have been missing from your collection..and keep checking back as there are still more to be added.
Visit the audio section
here
.
DWM #403 Cover
The cover for the next issue of Doctor Who Magazine has been revealed. The mag is due out this Thursday 11th December and will be packed with info on The Next Doctor...
05/12/2008, 15:28pm GMT
David Nominated For Theatre Goers Choice Awards
The nominees for the whatsonstage.com Theatre Goers Choice Awards have been announced and even before the London transfer of Hamlet, David gets a shortlists look-in with two nominations.
Hamlet, which officially opens at the West End's Novello Theatre next week, is nominated for Best Regional Production following its Stratford-upon-Avon season, while the frenzy around David's return to the stage to take the title role in the RSC production is up for Theatre Event of the Year.
You can vote for David and Hamlet
here
. Voting is open until 31st January 2009 and the winners will be announced on 9th February 2009.
Hamlet Ticket Update
Slightly restricted view £19 tickets in the Grand Circle are available for Saturday 6th and Monday 8th December.
Click
here
for more details from the official Delfont Mackintosh site.
04/12/2008, 13:09pm GMT
Limited Amount Of Hamlet Tickets Just Released
The Novello have just released a limited amount of tickets for Hamlet. You will need to phone the box office on the following number: 0844 482 5138. Full deatils of dates etc can be found on their website
here
.
Hamlet Wows Its First London Audience
The first preview of Hamlet in London was well recieved by its audience last night.
The London Evening Standard reports the following quotes from audience members:
One theatregoer claimed to have seen the production four times already. David McGurkin, a 20-year-old drama student from Leicester, said: "It was the fourth time I have seen this production and I have to say that the first night in London was definitely the best.
"The entire cast was terrific and the staging was very inventive. The use of light on stage and the way they played around with it was breathtaking."
Christy Wilkeson, a 20-year-old student from University College London, said: "It was the second time I saw David Tennant in the role after watching him in Stratford.
"He is obviously a big draw because he is superb. But I love Hamlet and you cannot discount Patrick Stewart who was also very good."
Rachel Wood, 35, from Reading, said: "The whole thing was excellent. All of the cast performed well. I was quite shocked at the amount of humour in it, you expect Hamlet to be quite miserable."
The audience included several groups of schoolchildren, including the English class of Cambridge teacher Frank Danes.
He said: "It was terrific, superb. David Tennant was brilliant, very funny and with lots of energy.
"It was like how I would expect Hamlet to be played a couple of hundred years ago.
"It is an ensemble production - there are lots of good actors including Patrick Stewart."
03/12/2008, 13:34pm GMT
Hamlet Previews In London
Hamlet opens for previews at The Novello from tonight. Don't forget that you can write reviews for other fans to read on our forum
here
.
Can we also just remind you all that ticket enquiries must be sent to the theatre and not to us. Thanks.
Doctor Who On iTunes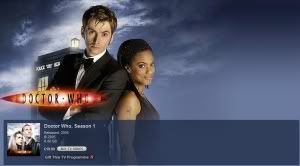 Series 1 - 4 of Doctor Who can now be downloaded for your iPod. A series will be released each week. Series 2 with David will be available from 9th December, series 3 on 16th December and series 4 on 23rd December.
Series 1 which features Christopher Eccelston as the Doctor is already available to purchase.
02/12/2008, 15:44pm GMT
David & Doctor Who Triumph At TV Times Awards
The latest issue of the TV Times (6-12 December) lists the winners of their awards and both David and Doctor Who have done well.
David was named the Sexiest Male on TV and came second in the Favourite Actor category meanwhile Doctor Who was named Favourite TV Show.
David says:
"Well I'm not sure what to say about being called the sexiest actor of the year! I'm very flattered and somewhat bewildered. All I know is that I voted for John Barrowman! However I am unashamedly delighted that Doctor Who has been voted favourite show. All of us who work on the series are immensly proud of it. Thank you very much and stay tuned. See you at Christmas. We've got Cybermen, snow and David Morrissey..it's going to be glorious!"
The full lists are as follows:
Top Five Sexiest Males:
1. David Tennant
2. Rob James-Collier
3. Scott Maslen
4. John Barrowman
5. Robert Kazinksy
Top Five Favourite Actors:
1. Sir David Jason
2. David Tennant
3. Michael Kitchen
4. Robson Green
5. Rob James-Collier
Top Five Favourite TV Shows:
1. Doctor Who
2. Coronation Street
3. EastEnders
4. Strictly Come Dancing
5. The X Factor
BBC Christmas Drama Preview
The above video comes courtesy of the BBC and features clips of the dramas you can look forward to seeing on BBC One this Christmas, including the Doctor Who Christmas Special...
Total TV Guide
Total TV Guide is another magazine that features David on the cover this week. They take a look at the Doctor Who Christmas Special inside.