28/02/2009, 20:38pm GMT
Doctor Who Filming Update
David has been in Newport filming for the next, as yet untitled, Doctor Who special.
Thanks to Matthew Robinson we have some photos from last night's filming
here
.
DWM #406 Details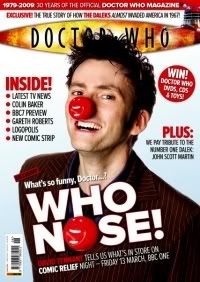 Click pic to enlarge!
The cover for Doctor Who Magazine issue 406 has now been released and as you can see it features David dressed to impress for Comic Relief. Inside the issue he will be talking about what we can expect on the night as he will be kicking off proceedings by presenting the first hour of the show with Davina McCall.
Doctor Who Magazine issue 406 will be released on Thursday, the 5th of March at the RRP of £3.99.
27/02/2009, 16:00pm GMT
From Shakespeare With Love Audio Sample
Thanks to
Naxos Audio Books
we now have a sample of David reading
'
When forty winters shall besiege thy brow' from their latest audio book From Shakespeare - With Love.
Don't forget that From Shakespeare - With Love will be released on 1st April 2009 and can be pre ordered from our online shop
here
. Further details about the release can be found
here
.
26/02/2009, 14:26pm GMT
David Nominated For Broadcasting Press Guild Award
David has been shortlisted for the Best Actor award in the 35th annual Broadcasting Press Guild Awards, to be presented next month at the Theatre Royal, Drury Lane.
He has been nominated for two roles, as the Doctor in Doctor Who and the British astronomer Arthur Eddington in the one off drama Einstein and Eddington.
Also nominated in the category are Kenneth Branagh and Ben Whishaw.
The highly-prized BPG awards are selected by journalists who write about TV and radio - correspondents, critics and previewers. Previous Best Actor winners include Sir Alec Guinness, Albert Finney, Charles Dance, Robert Hardy, Tim Pigott-Smith, Jim Broadbent, Christopher Ecclestone, Philip Glenister and Colin Firth.
Einstein And Eddington is also nominated for Best Single Drama.
You can visit the official BPG website
here
.
David Interviewed For New Cyberman DVD
David has been interviewed for a new Cyberman DVD collection that is being released on 13th April 2009.
Doctor Who: The Cybermen features four stories from the new series (Rise of the Cyberman, The Age of Steel, Army of Ghosts, Doomsday), is specially packaged and comes with an interview with David on the Cybermen and a Cybermen Documentary showing the 25 best Cybermen moments.
24/02/2009, 16:50pm GMT
War Child Heroes Advert
As we previously told you last month, David has recently narrated TV and radio adverts for a new album for the War Child charity.
Released by EMI through its Parlophone label, the album sees some of the biggest names in music history select one of their personal favourite songs from their own back catalogue, and nominate a musician from the next generation to create a modern reworking of it.
Tracks include a version of Paul McCartney's "Live and Let Die" sung by Duffy, Franz Ferdinand's version of Blondie's "Call Me", and a cover of U2's "Running to Stand Still" by Elbow.
The album was released on February 16, and all profits made will go towards helping protect children caught in the conflict of war.
Headway Essex Appeal
Headway Essex would like to thank all of you who donated to their appeal by purchasing a card signed by David. Your support will help people living with brain injuries and their families and carers.
They are delighted with the success of the campaign and have raised a brilliant £38,000!
All cards have now been sold, but there will be details of a new campaign on the site in the future!
23/02/2009, 13:34pm GMT
Doctor Who Repeats On BBC Three
BBC Three will be starting a repeat run of series 3 of Doctor Who from tonight. Smith And Jones kicks it all off at 19:00pm. See the diary
here
for more details.
19/02/2009, 12:05pm GMT
David On Matt Smith
David has been telling
What's On TV
magazine about a recent conversation he had with the new Doctor Who actor Matt Smith:
"We chatted on the phone not long ago and we did exchange a few opinions on what's about to unfold for him, but advice is a very dangerous thing. Matt's got an extraordinary journey coming up in all sorts of ways and I'm sure he'll find his own way through it.
I could tell Matt was very up for it, though, and excited in all the right ways. He says he's going to take it very seriously and he seems to have the right idea about playing The Doctor, so far as I can tell."
The latest issue of What's On TV is out now.
Doctor Who Special Update
The BBC has confirmed that acclaimed actress, Lindsay Duncan will guest star in the second Doctor Who special of 2009.
Lindsay is best known for her roles across stage and screen, including Shooting the Past and GBH and is soon to star as Margaret Thatcher in the highly anticipated BBC Two drama, Margaret. In Doctor Who she will play Adelaide - the Doctor's cleverest and most strong-minded companion yet.
"I'm thrilled to be involved in Doctor Who," said Lindsay. "I've never done anything like this before and I'm really looking forward to working with David Tennant and the Doctor Who team."
Lindsay joins David Tennant as he continues his role as The Doctor in the second of four Doctor Who Specials to be screened throughout 2009. This will follow Planet of the Dead, due to air this Easter on BBC One.
Executive Producer and writer Russell T Davies said: "Lindsay is an incredibly talented actress and I've been an admirer of her work for some time. We are delighted to announce that she will be joining the team and playing the Doctor's most strong-minded companion yet."
Due to go into production in Spring 2009, the second episode written by Russell T Davies and Phil Ford will be produced by Nikki Wilson and will be screened on BBC One later this year.

16/02/2009, 14:07pm GMT
Hamlet Triumphs At The Theatregoers' Choice Awards
David's return to the stage as Hamlet was named theatre event of the year in the ninth annual Whatsonstage.com Theatregoers' Choice Awards.
The play, which was in residence at the Courtyard Theatre in Stratford-upon-Avon, was also named best regional production.
The awards are voted for by the public with some 35,000 people casting their vote.
Full details of all the winners are available on the whatsonstage.com website
here
.
David's Doctor Who Video Diary Part 2
The Official BBC Doctor Who site has another video from David for you to watch
here
.
This one is about the recent filming in Butetown Tunnel for Planet Of The Dead.
Internet Imposters
The BBC have reminded fans yet again that David does not use any social networking sites or forums. They have issued the following statement:
There have been several recent cases of people posing as David Tennant and other members of the Doctor Who cast in Internet chat rooms and forums - as well as setting up social networking profiles in their names.
So fans are not disappointed or misled, we'd like to point out that both David Tennant and incoming Eleventh Doctor Matt Smith do not use social networking websites, chatrooms or forums. They wouldn't want fans to think that anyone who uses these are talking to the real actors.
For their own safety, we would strongly advise all Doctor Who fans to ignore any such postings and not be fooled by these impersonators - it will never be David Tennant or Matt Smith online.
Get A Signed Card From David - Less Than 100 Left!
There are now less than 100 Headway cards signed by David available so if you still haven't got yours you need to do it today as they will soon be gone!
Don't forget that as well as getting yourself a gorgeous glossy card signed by David himself you will also be helping a fabulous charity continue the wonnderful work that they do!
What are you waiting for? Click
here
for details of how to get yours TODAY!
The Shakespeare Birthplace Trust has picked a dozen Shakespearean heroes – including actors, directors and writers – whose images will line the walls of their new Shakespeare exhibition.
But they want the public to choose the thirteenth and this is where you come in as David has made their shortlist and with your help could be number thirteen.
The winner of our Quatermass Experiment competition has now been chosen and notified, many thanks to all of you who entered.
You can also sign up to the backstage area and donate!
David reads a number of Shakespeare's sonnets on the new audio collection From Shakespeare - with love.
It is read by a whole host of leading actors including Juliet Stevenson and Anton Lesser.
David introduces and concludes the collection, and reads 8 of the sonnets as follows:
Sonnet 2: When forty winters shall besiege thy brow
Sonnet 7: Lo! in the orient when the gracious light
Sonnet 9: Is it for fear to wet a widow's eye
Sonnet 11: As fast as thou shalt wane, so fast thou grow'st
Sonnet 14: Not from the stars do I my judgement pluck
Sonnet 17: Who will believe my verse in time to come
Sonnet 18: Shall I compare thee to a summer's day?
Sonnet 154: The little Love-god lying once asleep
Don't forget to tune into BBC One at 22:35pm tonight as David will be narrating Comic Relief: The Fools' Guide..
A thoughtful Billy Connolly is passionate about his commitment to Comic Relief and his refusal to indulge himself by crying on camera: "Your duty is not to join in with the crying . . . you won't find me weeping or shaky-lipped." Connolly is just one of the comedy stars who, during the past 21 years, have helped to raise funds for projects throughout Britain and Africa by making films featuring often unimaginable need and despair. The story of Comic Relief is a remarkable one, with its flagship Red Nose Day on BBC1 raising increasingly staggering sums since it began in 1988. (The next RND is on 13 March.) Comic Relief founder Richard Curtis leads us through the story of the charity he founded in response to the Ethiopian famine, illustrated with clips including Dawn French's memorable snog with Hugh Grant, and chats with participants Victoria Beckham and Tony Blair on his "Am I bovvered?" sketch with Catherine Tate.
David is also featured in the coverage of the party in the latest issue of the Radio Times which is out now.
Don't forget that David-Tennant.com is now on Twitter so you can get quick updates straight to your mobile!
Click to read...
David has very kindly sent a thank you note for all of you who wrote him messages for the Christmas Book and left get well soon messages for him... you can read the note above.
The BFI have kindly given us two tickets to The Quatermass Experiment screening on Tuesday 10th February at BFI Southbank and they could be yours!
To be in with a chance of winning just answer this simple question...
The competition closes at 12pm on Thursday 5th February and we will contact the winner by 12pm on Friday 6th February.
The winner will be selected at random from the correct entries.